P.O.D. Drop 'Testify'; Tour Dates Coming Soon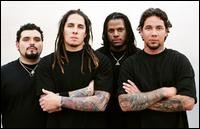 P.O.D.
returns with the release this week of their much-anticipated new album, "Testify." The Southern California-based band's fourth full-length Atlantic release -- and first new album since 2003's "
Payable on Death
" -- includes the current hit single, "Goodbye For Now."
Produced by P.O.D. in collaboration with
Glen Ballard
, "Testify" is the band's most provocative and powerful work to date. The album features extraordinary alliances with several like-minded artists, including acclaimed Hasidic artist
Matisyahu
(who lends his distinctive vocal talent to two roots-rock-reggae-flavored cuts) and the legendary
Boo-Yaa T.R.I.B.E.
, who guest on the rap-fuelled "On The Grind." Elsewhere, longtime followers of P.O.D. -- aka "the Warriors" -- will rejoice in many of the band's trademark sonics, from the full-on energy of "This Time" to the ferocious "Lights Out" and "Say Hello."
The poignant "Goodbye For Now" looks set to follow in the path of such previous P.O.D. hits as "Alive," "Youth Of A Nation," "Boom," and "Will You." The track is currently bulleting up the airplay charts, coming in this week at #14 (with a bullet) at Active Rock outlets. In addition, "Goodbye For Now" is a top 10 smash at Christian Rock outlets, while also ascending up the national Alternative radio rankings.
The band kicked off 2006 with an explosive New Year's Eve outdoor performance in New York City's Times Square, which aired on ABC's "Jimmy Kimmel Live." Last week saw P.O.D. heralding the release of "Testify" with an appearance on MTV's "Total Request Live" that saw the band performing an unprecedented five songs. As a result, "Goodbye For Now" made an electrifying top 10 debut on the "TRL" countdown, entering the chart at #8. P.O.D. have lined up further high-profile TV appearances for next week, including a January 30th performance on NBC's "The Tonight Show with Jay Leno," followed by a February 2nd appearance on NBC's "Last Call with Carson Daly."

The band -- who spent November and December of last year touring alongside labelmates
Staind
and
Taproot
as part of the "Fall Brawl" mega-bill -- will take the songs of "Testify" on the road this spring with a major North American headlining tour. Dates and details of the coast-to-coast itinerary -- slated for April and May -- will be announced shortly.
Since the release of their first Atlantic album just six years ago, P.O.D. has earned global acclaim and multi-platinum sales for their trademark brand of uplifting power rock. Over their 14-year career, the band has logged a remarkable array of achievements, including worldwide sales exceeding seven million, three Grammy nominations, sold-out international concert tours, a series of top-charting rock radio hits, and three #1 videos on MTV's "Total Request Live." Supported by their passionate fanbase of "Warriors," P.O.D. has proudly created what they describe as "a catalog of music that we want to respect and honor with each step into the future."