P!nk Treats Carey Hart To Special Painting For Christmas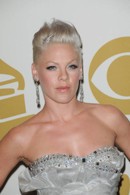 P!nk has treated her husband Carey Hart to an extra special Christmas gift by giving him a piece of art by his favorite painter - and arranging a meeting with the artist himself.

The motocross rider was ecstatic when he was introduced to American painter Robert Williams and his wife on Wednesday.

And Pink ensured Hart would walk away with a memorable gift from the experience by getting Williams to create a custom-made painting for her husband to keep.

In a series of posts on Twitter.com, Hart writes, "I got to meet my all time favorite artists (sic) in the world today, Robert Williams. Thank you so much for your time and hospitality.

"Thank you so much Pink for making it happen. The painting is amazing, and getting to spend the 2 hours with him and his wife was the best. I now have a custom Robert Williams painting that was done with the love of my wife and daughter. True meaning of priceless art."

And Pink is thankful to have been able to pull off the elaborate surprise.

Tweeting on Thursday, she writes, "Robert and Suzanne Williams are the nicest, most passionate, talented couple.They made my hubby's day yesterday, so gracious w/ (with) their time. when i am having a good year for xmas presents, no one can touch me! and this year i was inspired!!!! last year i sucked."