P!nk Steams Up The Screen With Husband Carey Hart In Latest Video, 'Just Give Me A Reason'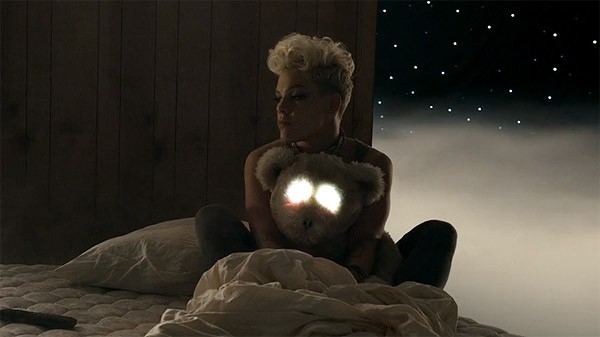 Things get pretty hot & heavy in P!nk's latest music video, "Just Give Me A Reason," as her real-life husband Carey Hart joins her for a romp between the sheets and for a heavy makeout session in the water.

The new video also features fun. lead singer Nate Ruess and a teddy bear with glowing eyes (watch it below).

The singer opens up in the March issue of Redbook, telling the story of how she and Hart fixed their marriage nearly a year after splitting.

"Eleven months after we broke up, he asked me to fly to Las Vegas to perform on New Year's Eve at his club. I wanted to see him. And I looked hot. There's something about breaking up with someone—you just look hotter than you ever did before. I will never look as good as I did those six months after we broke up. Never!" she says.
"Anyway, after sound check I told him that he needed to come to my room," she adds. "I had made him a photo album of all the cards he had ever given me, of all the photos of our entire relationship. I spent months on this album. On the last page, I pasted a photo of me from a really bad movie I made years ago with my neck slit and blood everywhere. Next to it I wrote, 'This is me without you.' On the next page, there was a picture of a baby. And I wrote: 'The rest is unwritten' The divorce papers that we never signed were behind that page.
"I was like, 'The rest is up to you.' And I did all of this in his favorite bra and panties."

The March 2013 issue of Redbook hits newsstands February 12.