P!nk Shows Off Her 55-Pound Weight Loss In The November Shape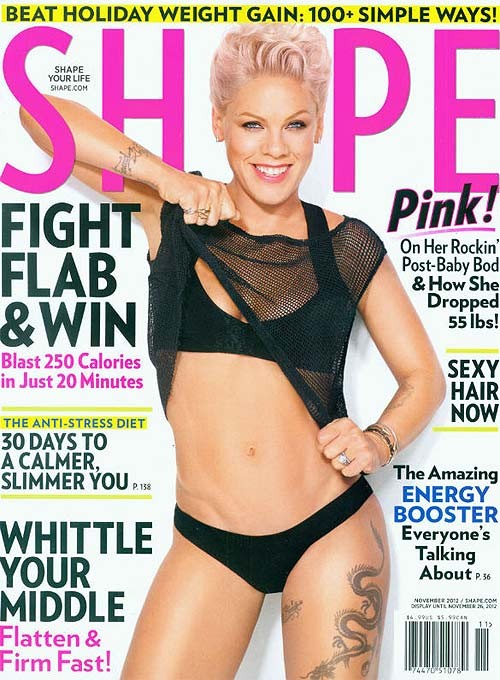 P!nk is flaunting her pre-baby body on the cover of the November issue of Shape magazine, showing off after dropping a whopping 55-pounds since giving birth last year.

The pop star gave birth to daughter Willow Sage with husband Carey Hart in June 2011, after which she recruited celebrity trainers Jillian Michaels and Jeanette Jenkins to help her get the baby-weight off.

"They both kicked my butt more than any other person I've worked out with," she tells Shape. "They're both amazing, and their bodies were all the inspiration I needed to get back into shape."

P!nk worked out six days a week, doing cardio training, yoga and kickboxing her way back into shape; and she reveals what it was the packed on the pounds.

"I ate a lot of cheesecake during those nine months," she says. "Also anything sour, Sour Skittles, Sour Patch Kids, key lime pie."

The 33-year old hard workouts paid off, and now she's showing off the results in the new issue of the fitness magazine; and getting back into top form isn't the only good thing she gained after her pregnancy -- she finally kicked her smoking habit.

"I was 9 [when I started smoking]. By the time I turned 12 I was smoking a pack a day. I quit when I got pregnant. Unlike before [the baby], cigarettes smell repulsive to me."

Read more about how P!nk keeps herself healthy at Shape.com or pick up the November issue, on newsstands everywhere.