Plies And The Six Elements That Made Him A Calculated Rapper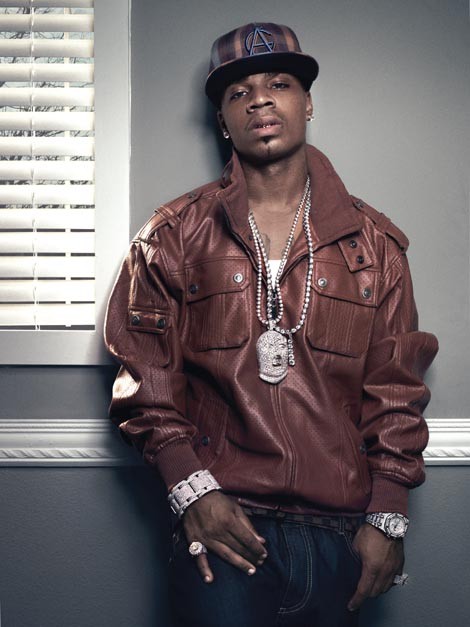 From the top of spring 2007, to the end of 2008, no one in hip hop at the time had a bigger hold on the game of rap than Algernod Lanier Washington, better known to the world as Plies. Sure, Lil Wayne during that time was reaching the peak of his rap career by releasing mix tapes, making frequent guest appearances and features, and also releasing his triple platinum album "Tha Carter III". But to be fair, in terms of street cred, marketability, image, and mainstream production, Plies had all the intangibles that record executives presently look for in terms of the next budding rap star.
On his first three albums, Plies had three top 15 records on the pop charts, three top three records on the Rap charts, and two on the Hip Hop/R&b charts during his run, ( Shawty, Hypnotized, etc.) album cuts for the ladies, ( 1 Mo Time, Ol Lady, You) street/gangsta records that were extremely popular, (Goons Lurkin, Bushes, All Black) Dope boy anthems (Friday, Watch Dis, Plenty Money) and the typical " I'll make a song for the everyday people and people in the struggle" records (100 Years, Runnin my Momma Crazy, Worth Goin Fed Fo, Gotta Be). With all that said, Plies was the true definition of a calculated rapper.
But what exactly is calculated rap per se? It is when record labels put so much emphasis on a rappers image, dialogue, rap topics, and appeal that stretches not only to the streets, but with women and the everyday people. A rappers talent is a small part of the equation, but like the music business slogan goes, "The music industry is 90% business, 10% talent". Plies at his height, had all the right moves to be successful. He had a strong street image and language. Men wanted to be him and women wanted to be with him. To be fairly honest, Plies was a guilty pleasure.
His records served as chronic anthems for a bulk of my sophomore and junior years of high school for me and many of my peers. But when it comes down to Plies, there are eight records and six primary factors that seem to truly represent him (and many others) as a calculated rapper. I will use some lyrics from these records that helped set his identity, and propel him from a former college student at one time, to a gold selling rap artist.
Image:
Song: Pants Hang Low
Lyrics:
"I let my pants hang low
I'm from the hood and this how s**t go
I let my pants hang low
So you better not play with my dough.
Cause if you do... fo'-fo"
This particular chorus from the song titled "Pants Hang Low" from his third album Da REAList is the exact personification of who Plies was marketed and promoted to be. Pants sagging, Hat wearing, no shirt on, .44 caliber toting "goon", which was what he used to frequently describe himself. The goon narrative was essentially one of the biggest and most important parts of his image, with many songs featuring the word as a way to describe him or his crew. Beginning in the late 1980's with the emergence of N.W.A., gangsta rap began to take over the positive rap acts such as De La Soul, Native Tongues etc. took a backseat. Because image is as equally important on the business side of things, Plies image was a strong hold on what a gangsta rapper was supposed to look like, as it worked out heavily in his favor. Seeing that his target audience was young males/females, he became one raps most prominent sex symbols/gangsta rappers since 50 Cent.
Dope Boy:
Song: Friday
Lyrics: "Before I went to sleep I prayed for a hundred squares
Told God he'll bless me if He really cared"
100 squares = 100 ounces of cocaine. Plies and his record company knew that if you're going to look the part, your rhymes and subject matter have to be the part too. Coke rap has been so clichéd in hip hop that it has become its own sub-genre in its own right. With the coke rap/mafia rap becoming popular in the mid/late 1990's with Scarface, Raekwon and The Notorious B.I.G., it shifted from being more of small calculation of a rappers image, to becoming the entire image of a rapper, causing the "trapper-turned-rapper" stage. Non-lyrical MC's such as Young Jeezy, (in the beginning) Shawty Lo, Yo Gotti, (well, he's okay) and now French Montana and Future are known as coke rappers specifically for the most part. Although drugs were actually a relatively small part of his lyrical persona, it was vital for Plies to gain the street credibility that was important for his calculated image.
Gun Talk:
Song: Bushes/Goons Lurkin
Lyrics: "We ain't gone let you get out we shooting through your glass
Walking to your car shooting that choppa looking mad
Bustin from the front, the goons bustin from the back
Clique of young n****s getting off in all black"
(Bushes)
"You might have missed the news, but you gone make the news
Victim found face down, knocked him out his shoes
Dem choppas went off he tried to run but couldn't move
Sawed him in half, that choppa broke him down in two"
(Goons Lurkin)
It is nearly impossible to be labeled a street (formula) rapper if you don't have gun talk in your content; it's like a body living without a heart. It's just illogical for it to work.  For Plies, Gun talk is his primary bread-and-butter, his obvious niche. Once he steps in the studio, he can shoot as many victims as he wants, or tote as many guns as possible. Yes, gangsta raps obsession with guns and violence doesn't inflict change in terms of lowering the crime rates, but record executives don't care, they're just trying to gain their advances back, and they have to do it by any means necessary. It's principally why even the most lyrical MC's of all time (Nas, The Notorious B.I.G., and *sigh* 2Pac) were pressured to violent –type rhymes so that they can appeal to the streets and retain credibility. Because Plies was a premier gun-carrier in his rhymes, as well as his portrayal of a drug dealer, it was highly significant to throw in him being a certified "goon" to help appease his persona as being "real" as the word was in his first three albums (The Real Testament, Definition of Real, The REAList) It doesn't matter if Algernod Lanier Washington never touched a gun a day in his life, it matters if Plies do, though. Can't be seen as "Real" to the streets if you don't terrorize the streets you walk on, right?