Play Starpulse's 'Celebrity Madness 2009 - The Women' (Round 1, Group 2)

Cast your votes for your favorite male & female celebrities in
Starpulse.com
's First Annual "
Celebrity March Madness
" showdown! In the spirit of the NCAA Men's and Women's Basketball Tournaments, we bring you two celebrity tournaments throughout the month of March that will determine the number one male and female celebrity - chosen by YOU!
All you have to do is cast your vote in the poll under the picture for one of the two celebs in each matchup! At the end of the round, we'll tally the votes and get the next round underway. There's even a bracket (
updated after each round
) with all the match-ups that you can print out (link below) and use to play along with your friends, create an office pool, or just keep track of all your own picks.
For the next two weeks we'll bring you six rounds of celebrity match-ups to vote on, much in the same style that the NCAA does: First & Second round, Sweet 16, Elite Eight, Final Four and the final Championship round to determine YOUR pick for the number one Female and Male celebrities!
The Matchup
Voting has ended for this round.
Megan Fox is one of Hollywood's hottest actresses today, and by hottest we mean looks-wise because she really hasn't done anything that notable other than maybe get another tattoo or three. Oh yeah, she did star in
Transformers
though and its upcoming sequel
Transformers: Revenge Of The Fallen
. Ali Larter plays the schizophrenic anti-hero Niki/Jessica on
Heroes
, the NBC series that still hasn't figured out if its coming or going yet.
Click the pic to go to the next match: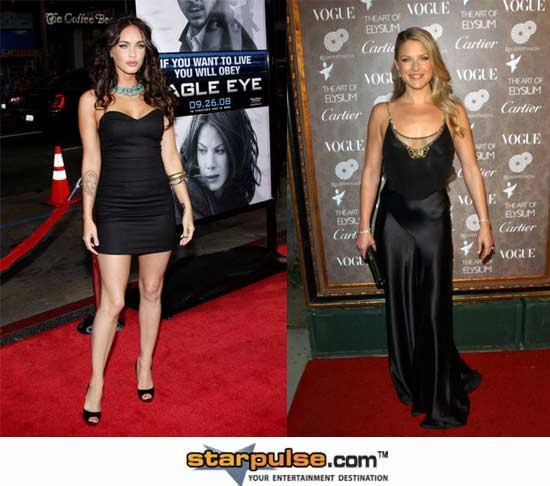 Who's it gonna be? Megan or Ali?
Vote!
The schedule:
First Round Voting: March 19-22
Second Round Voting: March 23-25
Sweet 16 Voting: March 26-28
Elite Eight Voting: March 29-31
Final Four Voting: April 1-3
Championship Voting: April 4-6
The champion will be announced on April 7th!
Check out the full bracket of all 64 Female Celebs here, you can even print it out and keep track of winners & losers!