Play MLB 2K5 Against Jason Giambi

Jason Giambi
of the New York Yankees, one of the most established players in Major League Baseball, is taking time from his busy Spring Training regimen to challenge his fans as part of the latest Xbox Live® 'Game with Fame.' Fans that are interested in challenging Giambi should keep their eye out for the Xbox Live gamertag 'giambiGWF' playing
MLB 2K5
® for Xbox on Tuesday, March 21 between 9:00 a.m. ET – 11:00 a.m. ET / 6:00 a.m. PT – 9:00 a.m. PT.
"There's no better place to play baseball than New York, Yankees fans are the greatest fans in baseball," Giambi said. "It'll be fun to get on Xbox Live and showcase my pride for the Pinstripes. But don't plan on me letting up against my fans, if they come inside on me I'll turn on it and knock it out of the park!"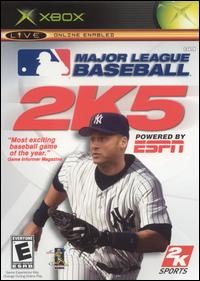 Giambi, one of the most disciplined offensive players in all of baseball, led the American League in 2005 in both walks (108) and on-base percentage (.440). Also during the '05 campaign, Giambi became only the second Yankee in the last 30 years to hit two or more home runs in two consecutive games, joining Paul O'Neill who amassed this feat in 1998. Jason was named the American League Player of the Month in July after batting .355 with 24 RBI while leading the league with 14 homers, a .974 slugging percentage, a .524 on-base percentage, and 74 total bases. A perennial candidate for league MVP, Giambi's 14 home runs last July was the most in team history since Hall-of-Famer
Mickey Mantle
belted 14 in July of 1961.
The Xbox Live "Game with Fame" program gives Xbox Live subscribers the unique opportunity to meet, chat and play against some of today's biggest athletes. Past "Game with Fame" celebrity players include Kansas City Chief running back Larry Johnson, Buffalo Bills running back Willis McGahee, Green Bay Packers running back
Ahman Green
, Pittsburgh Steelers wide receiver
Antwaan Randle El
, Atlanta Hawks forward Marvin Williams, New York Knicks center Channing Frye and Adrian Aucoin of the Chicago Blackhawks. For further information on other Xbox Live events, be sure to visit the "Game with Fame" Web site at http://www.xbox.com/gamewithfame.
The 2K-sports brand has always represented unparalleled realism and innovation and Major League Baseball®2K5 is no exception as it showcases spectacular visuals and standard-setting gameplay features. The game also delivers exciting online play capabilities, including the ability to organize online leagues for every big league team. The entertaining modes in Home Run Derby® are also playable online, delivering the most complete online baseball gameplay anywhere. As the exclusive and only officially licensed Major League Baseball video game to appear on every major gaming console, Major League Baseball 2K6 is slated for release at the end of March and will be available for the Xbox 360™ and Xbox® video game and entertainment systems from Microsoft.