Plan B: 'I Learned That Violence Actually Makes Things Better'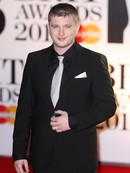 British singer/rapper Plan B has opened up about his troubled school life, revealing he used to beat up his bullies in an attempt to "gain respect."

The She Said hit-maker, real name Ben Ballance-Drew, endured a rough upbringing and has now spoken out about his traumatic time at school, admitting he was constantly targeted by bullies - and the only way he could cope was by fighting back.

He tells Britain's The Observer Magazine, "Every school I've gone to, I've had to end up fighting someone to gain respect. I learned that violence actually makes things better for me."

"When someone's taking the p**s out of me to the point where it's destroying me inside I was like, 'F**k it. I'll get expelled; I'm not going through this anymore.' So I'd beat up the bullies. And then when you do, they're like, 'Oh, what's your name then?'"
"I'd have to smash their faces in before they asked me my name."