Placido Domingo To Help Tackle Music Piracy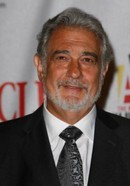 Opera heavyweight Placido Domingo has vowed to wage war on music piracy after he was named chairman of an influential trade group representing record labels.

The iconic Spanish tenor, 70, was announced as chairman of the International Federation of the Phonographic Industry (IFPI) at a London ceremony on Tuesday.

Among his early challenges is the need to combat music piracy, with Domingo conceding that illegal file-sharing could damage the future careers of new music stars.

He says, "The rights of these artists need protecting. On my own, I might not have done anything. But when the (bosses) of the different major labels approached me to help, I thought about how they had helped me during my career."

"I also realized that young artists might not get a career if this (piracy) situation continues."