PJ Harvey Wins 2011 Uncut Music Award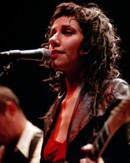 Singer/songwriter PJ Harvey has fought off competition from Radiohead and Paul Simon to land Britain's prestigious Uncut Music Award 2011 for her album Let England Shake.

The war-themed record landed the coveted Mercury Prize in September, and the honors are accumulating for Harvey.

Editors at respected U.K. music magazine Uncut have handed her their top music award ahead of rockers Radiohead, Simon, and other artists including Bon Iver and Fleet Foxes.

Harvey says, "I'm very pleased to get the Uncut Music Award 2011, and it strengthens my desire to carry on pursuing the avenues of work I have been for the last 20 years. It strengthens my conviction to always trust my instincts and to continue to do work of meaning and importance, in some way."