Pixies' Frank Black Launches Own Record Label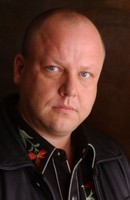 The Pixies frontman Frank Black has launched his own record label.

The Monkey Gone to Heaven singer recently founded The Bureau and he's now in the process of recruiting new talent with limited resources.

Black tells NME.com, "Running a label today isn't that different than at any other time. There's less money floating around, but I think it's a good thing. I think it's more honest. It just puts the pressure on everybody to be good."

The rocker is also hoping his new project will make it easier for him to get his own records made, adding, "More traditional record companies find it a little overwhelming that I come up with another record every nine months."

However, fans shouldn't get too excited about the label's impact on the Pixies - Black admits the group has plans to release new material, but not through his imprint.

He adds, "Pixies will either do something really traditional, with a big old record company, or something a lot more radical. Hopefully the radical approach. But The Bureau has other things on its plate."