Pitbull Performs At Miami Children's Hospital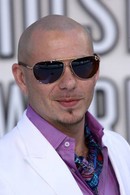 Rapper Pitbull thrilled a group of sick children at a Miami, Florida hospital last week by treating them to a special performance.

The star, real name Armando Perez, showed off his caring side on Thursday by dropping in unannounced at the Miami Children's Hospital.

Pitbull was happy to speak with patients and pose for pictures, before performing for the youngsters at the health facility.

Lucy Morillo-Agnetti, President and CEO of the Miami Children's Hospital Foundation, says, "We were deeply touched by Armando's visit and the joy he brought to the patients and their families who are facing a difficult time in their lives."
"We are very appreciative of his heartfelt support and honored to have such a celebrated figure as part of our Miami Children's Hospital family."