Pippa Middleton: Britain's Sexiest New Star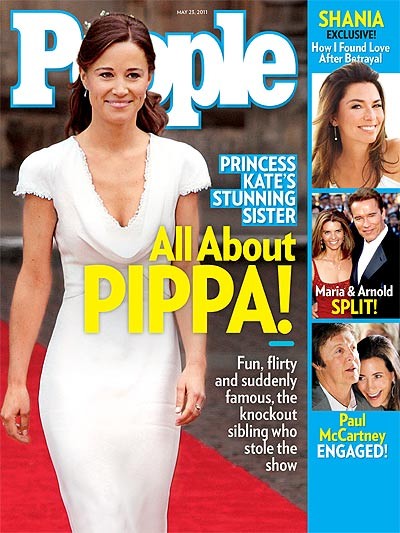 Her big sister Kate Middleton is the princess, but with her breakout turn at the Royal Wedding, Philippa Charlotte Middleton, better known as Pippa, stakes her own claim to the spotlight. This week's issue of PEOPLE reports on the fun, flirty and suddenly famous knockout sibling who stole the show at her big sister's wedding.

Call it a tale of two sisters: Catherine Elizabeth, 29, unfailingly discreet, polite, reserved - the kind of girl who wears a knitted shawl and ballet flats to go grocery shopping a few days after her wedding. And Philippa Charlotte, 27, variously described by friends as "radiant," "chatty," "extroverted," with "a strong sense of fun" - the kind of girl who just might rock a party-trick dress made out of toilet paper, as she did in a candid photo that recently resurfaced. Best friends and each other's most trusted confidantes, the sisters are, in other ways, "very similar," says one friend. Like Kate, "Pippa is sweet, polite and kind. She knows who she is and where she is from." She also knows exactly how to make an entrance. Flaunting her taut form in a body-skimming Alexander McQueen gown at her sister's wedding to Prince William on April 29th, maid-of-honor Pippa burst into the spotlight with such intense star power that she nearly upstaged the bride. "She's the one everyone's talking about," says London wedding planner Mark Niemierko. Notes Katie Nicholl, author of The Making of a Royal Romance: "It's a bit like [Princes] Harry and William. Harry can afford to be a little more carefree. Pippa can as well."

"They were just ordinary children," says Kate and Pippa's former Brownies troop leader June Scutter. "Kate and her sister were very close. I never heard them argue at all," she tells PEOPLE. That closeness continued into their teen years - even as the contrast between the sisters' personalities became more apparent. Kate was "quite shy," recalls a source whose family bonded with the Middletons during a 1996 diving vacation in Egypt. And her younger sister? "More outgoing." Says a pal: "They are very, very close."

Raised - along with Kate and their brother James, 23 - in the privilege afforded by their parents' successful party-favor business, Pippa followed Kate to elite Marlborough College, where "the boys always thought Pippa was better looking," says a childhood friend. Later, at Edinburgh University, "Pippa would always have male admirers," says a fellow student. An athletic beauty whose tennis game is as killer as her dinner-party chat, Pippa easily slid into the blue-blooded crowd that preferred to party privately at their families' country homes. "I never saw her in the pub once," says the fellow student. "And I never heard any stories about her misbehaving."

But that didn't stop her from attracting attention. Even while a handsome future king occasionally crashed at her family Bucklebury home, Pippa charmed her own impressive roster of men, landing the No. 1 spot as Britain's most eligible catch in society magazine Tatler in 2008. Pippa works a few days a week for the family business as well as for party planner Table Talk and lives in her parents' $1.9 million London flat. While Kate hopes to settle into domestic life with her new husband, a growing legion of Pippa watchers await the rising star's next move. "She's a girl who's not frightened to be seen," says royals author Alisande Healy Orme. Judging from the paparazzi shouting, "Pippa!" as the Middleton's left their hotel on April 30th, the world will see much more of the comely commoner whose fairy tale has just begun.

*Also In This Week's 'PEOPLE'*

Arnold Schwarzenegger & Maria Shriver Split: "They Are Working On This Together," Says Source
Paul Mccartney Engaged To Nancy Shevell: "They Seem Like A Perfect Match," Says Source
Victoria's Secret Angel Miranda Kerr Says Liz Taylor Is Her Style Icon
Thor Star Idris Elba's Guilty Pleasure: "Love & Hip Hop On VH1. It Absolutely Sucks You In."

The new issue of PEOPLE is on newsstands now!
Click here for all the latest Royal Wedding news & articles!
Click for more great Royal Wedding pictures: