Pink's Standout Performance At The 2010 Grammy Awards (Video)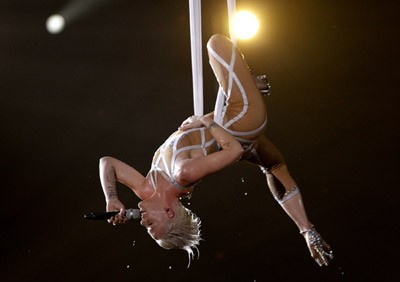 Pink
channeled Cirque Du Soleil at last night's Grammy Awards in a breathtaking acrobatic performance. The pop star appeared on stage in a white hooded robe, which she shortly discarded for a revealing flesh-colored bodysuit.
She was then lifted by a ribbon into the air, where she spun and spiraled while singing "Glitter in the Air." Midway through her performance water started drifting down the dangling pop star. Water flew everywhere as she twisted and turned in the white ribbon.
Our question is: how did the celebrities feel about being splashed by water? With their designer dresses and styled hair, it must have been a little annoying.
What did you think of Pink's performance?
Check out more on last night's Grammy Awards
HERE!