Pink Opens Up About Drug Use, More On 'Behind The Music' (Videos)

The second episode of "Behind The Music" aired last week chronicling the life of pop's wild child
Pink
. The Pennsylvania native's upbringing is far from sugary sweet or a page out of a fairy tale; then again nor is the singer. During the episode, Pink (real name Alecia Moore) spoke about how she used music to get her through her parent's separation and inevitable divorce.
By the time Pink was 13, she had already experienced events in her life that an ordinary 13-year-old never knew existed. At the age of 11, Pink started experimenting with recreational drugs like marijuana. She had graduated to the upper echelon of drugs like LSD, PCP, ecstasy, and crystal meth by the time she was 13. While her mother was away at work, Pink turned her family's home into a drug house, cooking and selling drugs without her mother's knowledge.
Watch Pink talk about being a trouble-maker as a teen:


Pink's big break came at 15 while the singer was high on a cocktail of drugs and performed a song over a Hip-Hop beat in a Philadelphia nightclub. A DJ that happened to be in attendance was impressed by Pink's talent and was interested in assisting her in furthering her music career. This was when Pink had adopted the R&B sound that would take her to the top. Pink then joined a group which consisted of two other female members and formed Choice. The group would eventually audition for music executive L.A. Reid who would offer Pink a solo deal.
Watch Pink talk about the challenges starting out in Philly:


As a solo artist, Pink made a name for herself as the "white girl with soul". She would earn herself a Grammy award after collaborating on a song with
Lil Kim
,
Christina Aguilera
, and
Mya
for the Labelle remake of "Lady Marmalade". Even after creating a name for herself and with a Grammy under her belt, Pink was not happy with the genre of R&B and desired a change.
After linking up with childhood idol, Linda Perry of
4 Non Blondes
, Pink was able to tap into her creative and abstract soul and in turn used music to heal the pain from her childhood. Their work together would give way to the chart topper "Family Portrait". Divorce, alienation, and the lows of love was the theme of her second album "Missundazstood," the singer's second album and first Pop-Rock album that went on to sell over 10 million copies. Taking the insatiable side of Pop on for size, "Missundazstood" was one of the first albums to go against all that was Pop, smearing the picture perfect genre with beautiful flaws.
As the outspoken person Pink is, the singer did not hide the fact that she does not take a liking to fellow artist and collaborator Christina Aguilera. Her dislike of Christina led to her strained relationship with Linda after the songwriter started working with Christina on her album "Stripped." Pink spoke of her problem with Linda and Christina's partnership by saying, "I took it really personal when she started working with other artists," Pink said about Linda Perry. "Especially artists I don't really like."
Watch Pink talk about working with Linda Perry and writing 'Let's Get this Party Started':


On Valentine's Day in 2008, Pink and husband motocross racer
Carey Hart
announced their break-up after two years of marriage. From heartbreak came inspiration and the creation of "So What" from Pink's fifth studio album Funhouse. The single made its way to the top of Billboard charts all across the globe. Though "So What" was largely based on Pink's break up with Carey, he willingly made an appearance in the video prompting a reconciliation with wife Pink.
Watch Pink talk about her wedding and marriage to Carey Heart:


This episode starring Pink showed how choosing to go against the grain can pay off in more ways than one. Undoubtedly, Pink's childhood has largely contributed to the music the singer dishes out to the masses and although it wasn't the perfect life, transforming her inner pain into art is artistically commendable. Pink is not the quintessential definition of a Pop star and instead of conforming to a genre's normality, she decided to walk a line of her own proving that she is cut from a unique fabric that is more of a benefit than a liability. Her crave to be different and hunger for originality aids in adding the kind of diversity music yearns for.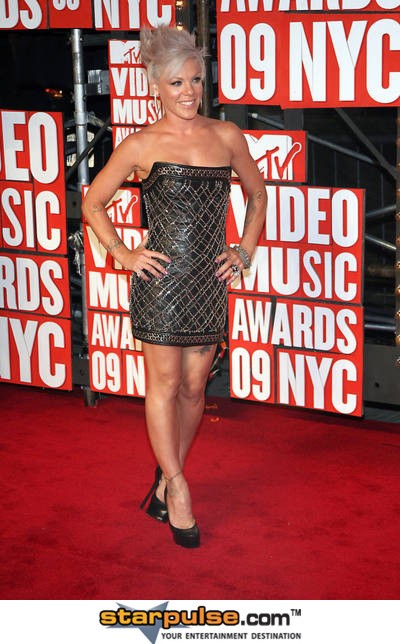 Image © Sylvain Gaboury / PR Photos
Story by
Samantha Greaves
Starpulse contributing writer