Pimp C's Widow Establishes Scholarship Fund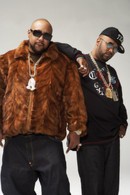 The widow of rapper Pimp C is auctioning off one of the UGK star's gold record plaques to raise funds for a new scholarship established in his memory.

Pimp C, real name Chad Butler, died in 2007 after suffering an accidental drug overdose complicated by a pre-existing sleep disorder.

Chinara Butler has now announced plans to keep her husband's memory alive in the field of education.

And she is hoping to raise the cash for the fund by selling Pimp C's award for sales of "Ridin' Dirty" later this year to mark the 15th anniversary of the classic UGK album.

She tells AllHipHop.com, "Chad put his all into making his music, and learning the business of music. For people that want to succeed in the music industry, education is a must."