Pilot Recap: The Who's Who And What's What Of 'Parenthood'

The premiere of the ensemble dramedy "Parenthood" felt a lot like a typical family gathering – some parts are good, some parts are bad, and you're full by the time you leave. In this Pilot episode, we met about 20 characters in as many minutes, and spent the rest of the hour sorting out who was who, as a whole lot of plot points began to materialize. In summary, here's what we learned: 
At the top of the Braverman family tree are Zeek and Camille played by Craig T. Nelson and Bonnie Bedelia. The senior-most Mom and Dad in the 'hood have four adult children, who are now in various stages of their own parenting adventures. We don't find out too much about Mom, but Dad had an unbranded box of condoms in the garage and might be having an affair. Also, he's tough on his kids (and now, grandkids) and thinks life is a war. However, he loves his family and supports his children when they appear to be losing their personal battles.
Lauren Graham's character Sara is the prime example of this. She has run out of money and is moving back home to live with Mom and Dad. Sara comes with two "degenerate" kids in tow – both of whom she has lost and found by the end of the episode. Her daughter, Amber (Mae Whitman) also winds up in jail at one point. Despite all that baggage, a girl's gotta eat and over the course of the episode Sara reconnects with her high school boyfriend, who is now a fat, balding, barista/builder/poet. They wind up going back to her parent's house to screw and get caught by her son, Drew. The trauma of this incident causes him to run away and confront the more traumatic realization that his dad doesn't really want to take him in. On the way home, Sara reminds Drew that she'll always be there for him and Lauren Graham reminds us that she's awesome as she conveys all of Sara's strength, weakness, self-doubt, and determination.  
The other de facto leader of this ensemble is Peter Krause, who plays Adam, the eldest of the Braverman offspring. He and his wife Christina (Monica Potter) are classic suburban parents raising their teenage daughter Haddie (Sarah Ramos) and her younger brother, Max (Max Berkholder). Adam coaches Max's baseball team and bribes his son with ice cream, while Christina talks about balls with her daughter. As the episode progresses, we see that Max is an awkward, uncoordinated, anti-social kid who insists on wearing pirate costumes to school. Adam deals with these issues by attacking others, verbally and in the case of the Little League umpire, physically as well. Truth be told, the show does score some major authenticity points here as this scene probably looks familiar to everyone who grew up in the suburbs. The deeper issues in this TV family are revealed after Max bites a kid at school and the administration insist on testing him for learning and developmental disabilities. When Adam's wife tells him that their son might have Asberger's Syndrome, Adam struggles with the news, but realizes there is a problem and admits as much to his father. As for the teenage daughter, there's reason to believe that she's not as innocent as her parents think and may have been the one responsible for her and her cousin's trip to the police station.
If all this isn't enough, there are still two more Braverman siblings.  Dax Shepard plays Crosby (because he couldn't have a non-ridiculous name) who wakes up to find sperm in his maybe-girlfriend/co-worker's freezer. This bothers him, and he and Sperm Girl agree to have a kid together in three years. Before then, he decides it's cool for him to see Jasmine the dancer, his ex-girlfriend who has a baby-related surprise of her own. Yup. It turns out that Crosby sired a kid named Jabar a couple of years back.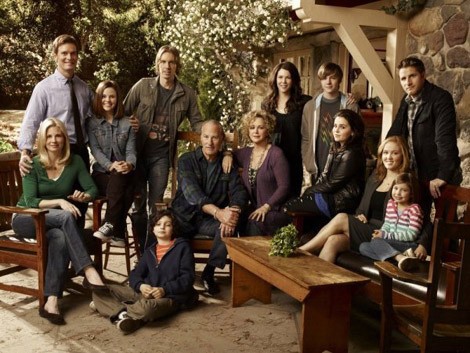 The fourth and final sibling, Julia is played by Erica Christensen . Julia's a high powered attorney and total workaholic. Her husband Joel (Sam Jaeger) stays at home with their young daughter who now asks "daddy" to do everything from cutting her food to singing her bedtime song. Julia, feeling rejected tries to accept that her daughter is just someone else she's related to, whatever that means.
So that's the who's who and what's what of "Parenthood."  The episode ends with Max being proactive about attending his baseball game, because after all, it's his team, and teams like families need to stick together. As for sticking with "Parenthood," I'm in for the time being. Lauren Graham and Peter Krause are both amazingly talented and fun to watch. The plot points that centered on their characters and families were by far the most compelling and seem to have the potential to create humorous and heartfelt moments. Hopefully, as the series develops, it will grow into itself and focus on telling compelling, character-driven stories.
Story by Elissa Farkas
Starpulse contributing writer