Phish Return To Vermont For Tropical Storm Irene Flood Benefit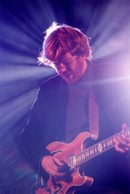 Rockers Phish played their native Vermont on Wednesday for the first time in seven years to raise money for flooding victims.

The band played a low-key three-hour show in Essex Junction for those affected by the aftermath of Tropical Storm Irene, which killed four people and damaged roads, bridges and homes across the state.

More than 11,000 fans showed up for the gig at the Champlain Valley Exposition, where Governor Peter Shumlin introduced the band to the stage.

The show marked Phish's first Vermont concert since their farewell gig in 2004. The band has since reformed.