Phish, My Morning Jacket, Gov't Mule Play Tributes For Lou Reed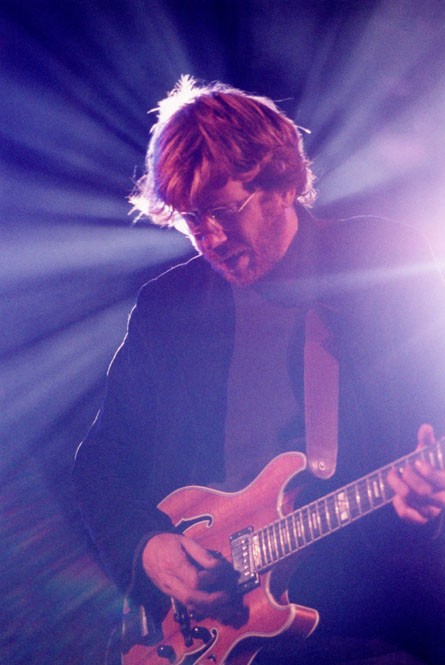 The song may have been in the band's repertoire since Halloween of 1998, but on Sunday night Phish opened their show at Hartford, Connecticut's XL Center with a bittersweet, yet rousing rendition of the Velvet Underground's "Rock & Roll" in tribute to late music legend Lou Reed.

Reed passed away earlier in the day due to complications stemming from a liver transplant he had back in May.

Following the eleven-and-a-half-minute epic, frontman Trey Anastasio asked the crowd for a moment of silence for "one of the greatest artists who's ever lived."

Prior to the show Anastasio posted a tribute to the late singer on the band's official site.

Anastasio recounted a festival in Germany in 1992 where, starstruck, he met Reed.

"I nervously approached and said hi, and he said 'go up there and show em' how to Rock and Roll, after all, we invented it.'" Anastasio wrote. "His comment made my head spin. The entire time we were up onstage playing I was thinking, 'did he mean Americans, or him and The Velvet Underground?' Because either statement would be true..."

"Thank you, Lou," he concluded. "You are the true father of Rock and Roll. We all are forever in your debt."

The band played VU's classic album "Loaded" in its entirety on Halloween night in 1998.

Phish weren't the only band paying tribute to Reed's life and music career. Kentucky-based My Morning Jacket were joined by Neil Young, Elvis Costello and Jenny Lewis for a performance of the Velvet Underground's "Oh! Sweet Nuthin'" at the Bridge School Benefit concert in Mountain View, Calif., Sunday night.

The Black Crowes worked "Oh! Sweet Nuthin'" and "What Goes On" into their New York City set on Sunday night; while Gov't Mule, on tour in Eugene, Oregon, played "Walk On The Wild Side," "Sweet Jane" and "Waiting For The Man" as the encore to their show.

Pearl Jam added a bit of Reed's "Walk On The Wild Side" into their track "Daughter", according to Jambase.com, and also played a cover of "Waiting For The Man."