Phillip Phillips Continues Worrying Trend Of 'White Guy With Guitar' Winners For 'American Idol'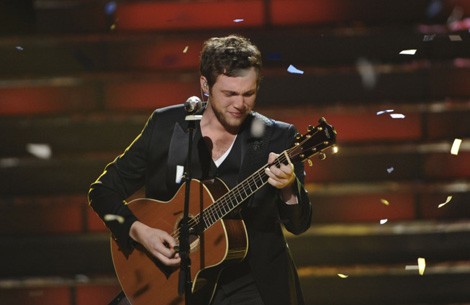 Nothing against Phillip Phillips, who surely has some talent, but his win is the latest in a line of what fans have coined "White Guys with Guitars," or "WGWG." With ratings and record sales getting lower, can American Idol do anything to curb the trend?
Since the music competition allowed contestants to play instruments while singing, the show has seen David Cook, Kris Allen, Lee DeWyze, Scotty McCreery, and Phillip Phillips take the prize over a more varied and (arguably) talented field. McCreery is a bit different, slanting towards crooning country instead of the light pop the rest of the men on the list have diluted the airwaves with.
While fans are casting their votes for WGWGs, they aren't buying their albums:
- David Cook's debut album hit Platinum (1 million sold) on the buzz from his win - his second album has sold 118,000 copies.
- Kris Allen's debut album is the first winner in Idol history to fail to reach Gold (500k sold) status - and the guy he beat, Adam Lambert, sold over 800K of his debut. In case you haven't heard, Allen released his second record two days ago.
- Lee DeWyze's first post-Idol album has a 45 out of 100 rating on Metacritic and has currently only sold 168,000 copies. Crystal Bowersox, runner-up, has out-sold DeWyze and garnered better reviews with her debut.
- Scotty McCreery's refreshing voice led him to a platinum record and the first Idol winner to hit #1 on Billboard charts since Ruben Studdard - making him the lone exception.
There are a few things American Idol can do, should Phillip Phillips add to the flops. The first obvious change would be taking away the guitars again, as they seem to help mask a lack of vocal uniqueness. It would also help to give the judges a save every week, a la The X Factor. However, that move could disenfranchise and anger voters. The show could also force the run-of-the-mill pop male singers to go out of their wheelhouse and sing something much more interesting - without any re-arrangements. Let's see if these guys can handle Queen.
As the number of music contests grows, American Idol has to re-establish itself the show that reveals true musical talent... or die off as a pop dinosaur.