Philip Martin Ready To Break Out With HBO's 'Phil Spector'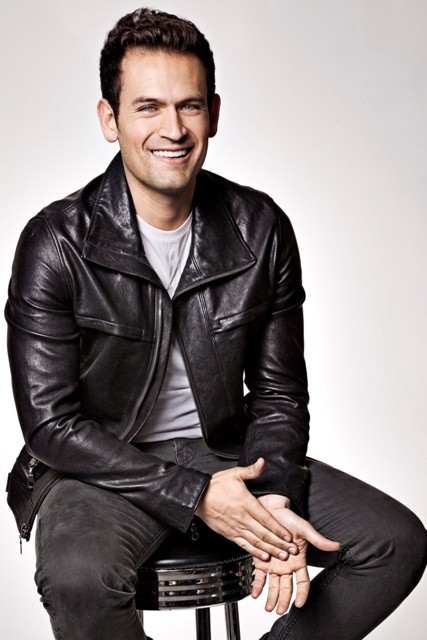 On Sunday, HBO premieres Phil Spector, an original film about the famed record producer's 2007 murder trial, starring Al Pacino in the title role and written by acclaimed playwright and screenwriter David Mamet (American Buffalo, The Unit). BFTV recently spoke with Philip Martin - the up-and-coming actor who plays defense team member James Lee in the production - to find out what it's like to work on a star-studded project and what his goals are after Phil Spector hits the airwaves.
"It's going to be a very intriguing story. All the people that are involved with it, I think that's what makes it," said the actor, referring to a cast that also includes Jeffrey Tambor, Chiwetel Ejiofor (Serenity), and Jenn Lyon (Justified). "Especially exploring Phil Spector, I think the important thing to know about him and what's intriguing about Phil, he's responsible for so much that we identify in pop culture. Songs like [John Lennon's] 'Imagine,' which was super inspiring to me growing up. To know that Phil was involved with those is really what's going to pique people's interest."
The movie isn't Philip's first collaboration with Mamet; the two have worked together at Mamet's Atlantic Theater Company, and Mamet wrote the part of Lee with Philip in mind. "He's the most gracious, loving teacher that I've ever met. He really cares about the people that he teaches. He really has a great heart," explained Philip, who grew up reading the multiple Tony nominee's famous plays like Glengarry Glen Ross and American Buffalo. "The greatest pleasure of working with a genius like David Mamet is to know the man behind the work. Working with him on set, it was a dream. The great thing about him is he inspires you to do your best work and he inspires you to be the best person, because David arguably is doing his best. That's the goal of any artist, is to be around people that inspire you."
Now, after all his time and effort, Phil Spector provides the chance for Philip to show a national TV audience what he can do with Mamet's words, and he's excited about the opportunity. "I went to NYU and I came out to Los Angeles just based on a dream and based on my passion. I didn't know anybody in the industry," he said. "To have somebody like David say 'Hey, I'm writing this part for you,' it makes all the hard work that I've done for the past years worth it. It's a really great affirmation. David, Al, Helen and Jeffrey, they're all artists that inspired me to keep on going and to not let my doubt rule me, and then to get an opportunity to work with them, it proves to me that no matter what comes up, if you're positive and you maintain that faith and that courage, the universe is abundant. As I go through my career, I hope that I can inspire that same kind of fire in other people."
The HBO film also brings Philip somewhat full circle, as he's a fan of cable TV series both past and present. "I grew up on HBO, I grew up on Showtime. Summertime that's all I watched, like Arliss and The Larry Sanders Show and The Sopranos," he explained. As for what gets his attention now, "I really love Sons of Anarchy. I think Katey Sagal and all the cast of that show, it's one of the most intriguing, underappreciated shows on TV. I know every time that comes on I'm super-inspired. I would also recommend Girls. Watching this season especially, seeing all the work that Lena Dunham is doing, I was just blown away."
Another show on his must-watch list is The Newsroom. "Aaron Sorkin is a genius just like David," he continued. "I really look forward to seeing the second season and seeing how that show progresses. In America, we kind of live and breathe the news. I think The Newsroom and Sorkin, they just have a tremendous ability to bring understanding and integrity to what's going on in America. That's a great thing about a writer like Aaron Sorkin - the eye that he has on American culture really makes people think."
That ability to transcend simple entertainment affect others is something that is important to Philip as he looks forward to what he wants to accomplish with the rest of his developing career. "I just want to continue to work as an actor and be part of this amazing ability that we have as artists in the entertainment industry to reach millions of people," he said. "I've always been an underdog my whole life. My only goal is to be able to inspire other underdogs to not lose faith and to keep on going. I would just be immensely grateful to be a part of that."
Phil Spector airs Sunday at 9 PM ET/PT on HBO. You can also keep up with Philip on Twitter (@Philip_MartinJr).
(c)2013 Brittany Frederick. Appears at Starpulse with permission. All rights reserved. No reproduction permitted. Visit my official website and follow me on Twitter at @tvbrittanyf.