Phil Vassar Recorded Christmas Album In A Day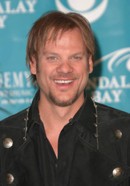 Country star Phil Vassar was one of the last to arrive at the Christmas albums party this year after recording his holiday effort at the last minute - in a day.

Vassar hit the studio with producer pal Dane Bryant in September to lay down Christmas classics like "O Come All Ye Faithful," "I'll Be Home for Christmas" and "What Child Is This," and new tunes "Big Ol' Texas Christmas" and "Santa's Gone Hollywood" for his new release "Noel."

He tells CMT.com, "Honestly, I got the record together in about two or three weeks. I called Dane and said, 'I've got a one-week window in September. Have you got a couple of days off? Let's do it.' And he said, 'OK.'

"We got together and started going over some cover songs. And then we had this little musical idea, which is the first song, "Doesn't Feel Like Christmas Without You." He started doodling around on it, and I put it on my iPhone and wrote the words to it on a plane the next day.

"'Big Ol' Texas Christmas' and 'Santa's Gone Hollywood' we wrote right before the record... and I wrote 'I Saved Christmas' the day before we cut the record. We cut it all in the studio in one day. I sang all the songs the same day. I didn't have to do overdubs or vocals or anything... We went in really prepared. It's so much fun when you've got great musicians like that. There's nothing that can't be done."

And he's confident his Christmas album will be a big seller over time: "Maybe you just sell it for a month (each year), but you sell it for a month forever. You know how many copies of the Nat King Cole Christmas album I've bought over the years? I'll bet 50."