Phil Robertson Speaks Out: 'I Am A lover Of Humanity'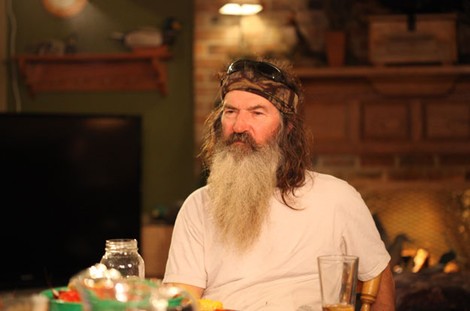 Duck Dynasty's Phil Robertson defended himself in a speech he gave at his local church, following an outcry over his homophobic and racist comments in a recent GQ interview.
DailyMail was invited to report on Phil's trip to West Monroe, Louisiana. Phil defended himself against the recent backlash, saying he was quoting biblical scripture. "I love all men and women. I am a lover of humanity, not a hater."
The Duck Dynasty star's speech went for some 45 minutes. He said, among other things, "Commonsense says we are not going to procreate the human race unless we have a man and a woman. From the beginning Jesus said, 'It is a man and a woman.' Adam was made and Eve was made for this reason. They left their fathers and mothers and be united to become one flesh, that's what marriage is all about."
He said later, "We are a bunch of rednecks from Louisiana, but I am not uneducated, I have a degree from Louisiana Tech. But this week I have been called an ignoramus. This week I have been asked, 'Is this the first time you have brought up sin?' I said, 'Are you kidding? I have been traveling to and fro spreading this message.'"
You can read his full speech on DailyMail.
One of the attendees even thanked Phil for his comments in GQ magazine, which equated homosexuality to bestiality and claimed blacks were happy working in cotton fields. Phil said of the reaction to his words, "I didn't think much of it at all, but it seems a lot of other people did."
Phil was suspended by A&E, to which the Duck Dynasty cast has responded, "We cannot imagine the show going forward without our patriarch at the helm. We are in discussions with A&E to see what that means for the future of Duck Dynasty."