Pharrell Shares Tracklist For 'G I R L,' New Album Features Collaborations With Miley, JT, Alicia Keys & Daft Punk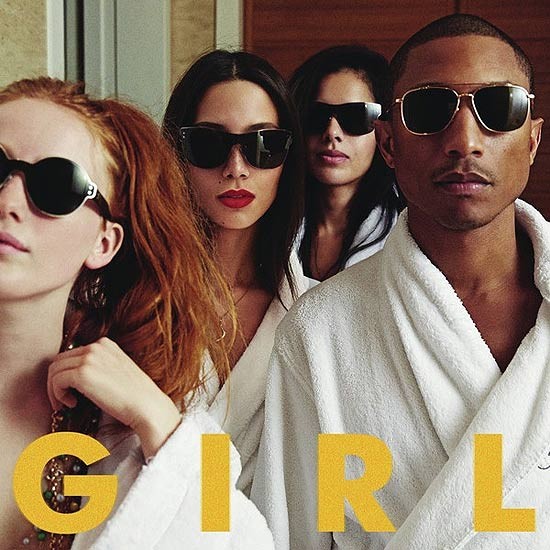 Pharrell Williams has shared the official track list for his forthcoming album "G I R L," revealing collaborations with Miley Cyrus, Justin Timberlake, Alicia Keys and Daft Punk.

Pharrell shared the album's song list on his Instagram page Monday night in the form of a short video.

The new album will also feature the singer's huge hit "Happy," from the animated film "Despicable Me 2."

"The reason why I named [the album] G I R L in capital letters," Williams told BBC Radio 1's Zane Lowe at this year's BRIT Awards, "is because when you look at it, it looks a little weird. And the reason why it does is because society is a little unbalanced... Women have been so good to me over this entire career. Everything I've ever gotten is because they've paid for [it], so they're, like, my bosses -- indirectly and directly -- you guys are like my bosses. So for me, I wanted to analyze that for a second."

The singer goes on to praise the female of the species, adding, "We need them. Every human being has come through those silver-lined doors."

Many have called the singer's comments sexist, especially in the wake of this summer's smash hit "Blurred Lines" from Robin Thicke -- on which he was featured -- being deemed misogynistic.

"G I R L" hits retail and digital outlets on Tuesday, March 3, and is sick! Check it iout at iTunes Radio First Play where it's streaming for free right now.

"G I R L" Track Listing:

1. "Marilyn Monroe"
2. "Brand New" (featuring Justin Timberlake)
3. "Hunter"
4. "Gush"
5. "Happy"
6. "Come Get It Bae" (featuring Miley Cyrus)
7. "Gust of Wind" (featuring Daft Punk)
8. "Lost Queen"
9. "Know Who You Are" (featuring Alicia Keys)
10. "It Girl"