Pharrell Launching A Youth Center In Virginia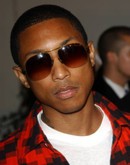 Hip-hop superstar Pharrell Williams is opening his own youth center in his native Virginia to provide youngsters with an outlet for their creativity.

The N.E.R.D. rapper/singer has recruited renowned architect Chad Oppenheim to create a modern tree house-style space in Virginia Beach that local youngsters can escape to and receive support in nurturing their artistic talents.

Williams tells design magazine Wallpaper, "I wanted to provide people with the same opportunities I got. My teachers didn't let me go until I had realized my potential. They taught me to fight my way out of a paper bag. Children need guidance and creative discipline and someone to be there when they fall. They also need a safe haven."

"At the moment, arts organizations across the U.S. are having their funding cut and we can't let that happen. There's so little regard for creative skills. Where would we be without design?"

And Williams hopes to take the project nationwide, if the Virginia launch is a success.  He says, "This is just a prototype. If all goes well, we will look at setting it up in other cities across the U.S. as well, such as Miami."

The eco-friendly Pharrell Williams Youth Center, which will also help to raise funds for Williams' charity, the From One Hand to Another Foundation, is expected to open next year.