Peter Jackson Confirms That 'The Hobbit' Is Being Extended Into A Trilogy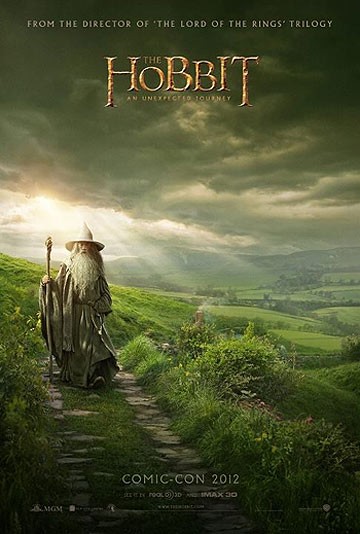 Lord of the Rings director Peter Jackson took to his Facebook page on Monday to address recent rumors that he may be turning his two-film adaptation of J.R.R. Tolkein's Rings prequel The Hobbit into a trilogy, as the source material for the story goes far beyond the planned two-part epic.

During last month's annual Comic Con in San Diego, Jackson hinted at the possibility of adding a third film to the recently wrapped part one The Hobbit: An Unexpected Journey and currently-in-production second installment The Hobbit: There and Back Again.

And now, after weeks of negotiations with Warner Bros. Pictures, Jackson has confirmed that The Hobbit is, indeed, moving forward as a trilogy.

Jackson says that filmmakers are thrilled with the initial cut of the first film and what's completed of part two.

We were really pleased with the way the story was coming together, in particular, the strength of the characters and the cast who have brought them to life," he says in his Facebook post. "All of which gave rise to a simple question: do we take this chance to tell more of the tale? And the answer from our perspective as the filmmakers, and as fans, was an unreserved 'yes.'"

The films incorporate a lot of the added story according to the notes Tolkein himself made in the hundred-plus pages of appendices that follow the end of "The Lord of the Rings: The Return of the King".

"We know how much of the story of Bilbo Baggins, the Wizard Gandalf, the Dwarves of Erebor, the rise of the Necromancer, and the Battle of Dol Guldur will remain untold if we do not take this chance. The richness of the story of The Hobbit, as well as some of the related material in the appendices of The Lord of the Rings, allows us to tell the full story of the adventures of Bilbo Baggins and the part he played in the sometimes dangerous, but at all times exciting, history of Middle-earth," Jackson writes.

"[O]n behalf of New Line Cinema, Warner Bros. Pictures, Metro-Goldwyn-Mayer, Wingnut Films, and the entire cast and crew of 'The Hobbit' films, I'd like to announce that two films will become three."

The Hobbit: An Unexpected Journey hits theaters December 14. The second film, The Hobbit: There and Back Again" is scheduled for December 13, 2013; and the as-yet-untitled third film is expected in the summer of 2014.

Website Bleedingcool.com reports that two possible -- but possibly unlikely -- titles were registered by Warner Bros. recently.

"Riddles in the Dark" and "The Desolation of Smaug" are the two titles.

Judging by the two confirmed titles, we wouldn't be surprised if the second installment gets the new title and "There and Back Again" -- the book's subtitle -- would be retained for the final film.