Peter Gabriel Rethinking Covers Album Project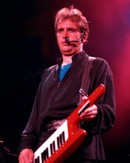 Peter Gabriel is re-imagining his "I'll Scratch Yours" covers album project - because so many artists whose hits he covered on his "Scratch My Back" release aren't interested in reworking his songs.

Gabriel recorded orchestral renditions of songs by David Bowie, Arcade Fire, Neil Young and Radiohead among others for the 2010 album and he had hoped the artists would return the favor for a covers album of his own work.

But too many of the acts he honored with orchestral makeovers aren't interested in being part of the project.

He tells Rolling Stone magazine, "I've sort of given up waiting... We have six excellent tracks with Bon Iver, Paul Simon, Lou Reed, David Byrne, Steven Merritt and Elbow. So now I think that I might try to find three or four other people to cover my stuff, so that I can make an album out of that, and then get that out next year in some form."