Peter Gabriel Asks Fans To Help Him Celebrate 'So' Anniversary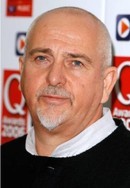 Rocker Peter Gabriel has called on fans to help him celebrate the 25th anniversary of his landmark So album by providing images, journal notes and memorabilia from the tour he launched to promote the release.

The former Genesis star will release a re-mastered version of the 1987 album next year and he hopes to include a time capsule booklet to remind fans of the late 1980s.

In a post on his website, Gabriel asks devotees to dig out anything they may have that is relevant to the 25th anniversary.

He writes, "We would love to see your memorabilia from back in 1986. Do you have any original So merchandise, posters and tickets for the So tour? Your photos relating to the album release or the concerts?"
"Even a diary entry from 25 years ago which tells a special story about the album release or So tour?"