Peter Fonda Gave Little Brooke Shields Her First Horse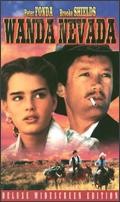 Brooke Shields has magical memories of her 1979 movie "Wanda Nevada" because her director and co-star Peter Fonda gave her the horse she fell for on the set as a wrap gift.
 
The actress, who played the title role in the film, admits the "little filly" that she rode to and from the set as a child star was her first horse.
 
She tells WENN, "We were in Arizona and had to have horses and mules in the Grand Canyon. There was this sweet little filly and she basically failed racing school because she would trot forever and never break into a cantor and only go one way.
 
"You would sing the racing start chant and she would just take off, so she was never a very prized member of the stable and they sold her.
 
"Peter knew how much I loved horses and so he bought her and gave her to me for my movie gift."
 
Oddly, Shields is now allergic to horses - something that became a problem while she was shooting her new film The Greening of Whitney Brown, in which she co-stars with a mare.
 
She adds, "For this movie they were patting me down with wet towels every time I went near the horse because I was just one big hive."