Peter Facinelli: 'I Would Pickpocket The Crew'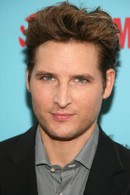 Twilight star Peter Facinelli has become a proficient pickpocket after studying sleight of hand for his new film Loosies.

The actor plays a thief in the film and practiced his feather-like touch on his cast mates and crew.
 
He tells BlogTalkRadio.com, "I was getting quite good. I took (co-star) Jaimie Alexander's wallet because she has a surname that isn't Alexander. No one knows what it is and I kept asking her what it was, so I finally picked her wallet and found out what it was but I won't say.

"I would pickpocket the crew a lot. There was a take where I actually pickpocketed one of the extras and someone (watching on the street) didn't know we were filming and when I crossed the street they ran over to the extra and said, 'You just got pick pocketed. I saw the guy. He's over there!' That was really funny."

Facinelli admits his studies also taught him how to protect his own belongings: "I worked with a pickpocket who taught me the trade, so to speak, and he told me to always keep your wallet in your front pocket."