Peter Facinelli and Jennie Garth Clear Up Infidelity Rumors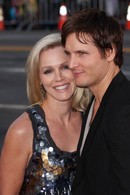 Twilight star Peter Facinelli and his actress wife Jennie Garth have moved swiftly to deny rumors suggesting infidelity played a part in their decision to divorce.

The couple announced the end of its 11-year marriage on Tuesday and gossip alleging Facinelli had been caught cheating behind his wife's back quickly spread online.

But the stars, who have three young children together, insist claims of adultery have been "completely" fabricated.

A statement issued to People.com reads: "There are rumors out there which are completely untrue and hurtful to our family. We just want to make it very clear - there are no third parties involved."