PETA Takes Aim At Trace Adkins Over His Love For Hunting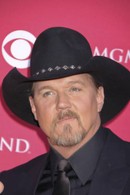 Animal rights campaigners have taken aim at country star Trace Adkins for opening up about his love for hunting and guns on the same day a 15-year-old Texas student was shot dead by police after brandishing a pistol at school.

Cops in Brownsville killed Jamie Gonzalez on Wednesday after school officials reported he had pulled a pellet pistol on a classmate during an argument and then allegedly boasted about staging a shoot-out with officers when they arrived.  He was shot three times, according to local reports, when he refused to put his gun down at the request of police officials.

The incident came just hours before Adkins was announced as the January 2012 spokesman for the National Rifle Association.
Accepting the honor, the Chrome singer said, "I'm a lifetime member of the NRA. I'm proud of that... They share my love of the outdoors and my wish to safeguard America's hunting heritage."

However, animal rights activists at People for the Ethical Treatment of Animals (PETA) are using the Texas tragedy to urge Adkins to reconsider his gun stance.

Spokeswoman Wendy Wegner tells WENN, "The debate over hunting boils down to one question - do we teach our kids to kill or to be kind? When an eighth-grade child can be shot and killed by the police for taking a gun to school, perhaps we should be considering the real influence that this blood sport and the NRA's promotion of it have on America's youth."
 
"Only seven per cent of the American public hunts, and that puts Trace and the NRA way out of step with the rest of the country, which opposes killing for fun."