PETA Demands Dustin Hoffman Stops Shooting 'Luck'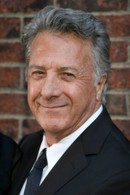 Animal rights campaigners have taken aim at the bosses of Dustin Hoffman's new TV drama Luck and demanded a halt in filming after three horses died on the set.

The HBO show has been hit with a series of equine tragedies - two mounts had to be put down last year and earlier this week a third beast was killed after falling backwards and breaking its neck.

Now, officials at People for the Ethical Treatment of Animals have hit out at the TV network and the racing series' producers Hoffman, David Milch and Michael Mann, demanding they stop shooting the show.

In a statement, a spokesman says, "HBO, David Milch, and Michael Mann should be ashamed. Three horses have now died, and all the evidence PETA U.S. has gathered points to sloppy oversight, the use of unfit or injured horses, and disregard for the treatment of racehorses.

"PETA U.S. contacted HBO and producer/star Dustin Hoffman last week regarding reports they had received stating that oversight on the set was lax, and they were urged to help make things safer for the horses..."

"We will want answers on HBO's latest casualty. Filming must stop now."