'Perception's' Eric McCormack: 'Some Of Our Strongest' Episodes Ahead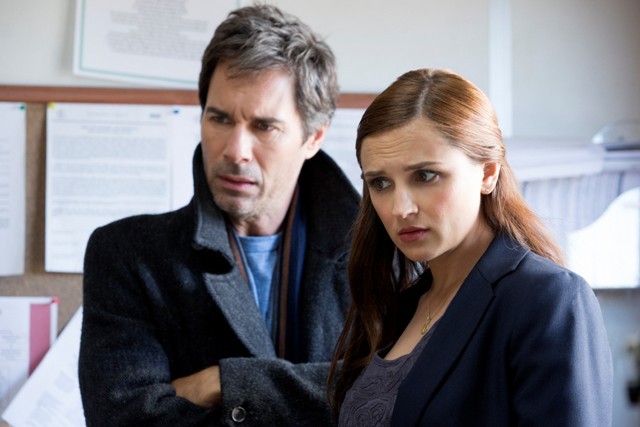 TNT's Perception is back to air the final four episodes of its sophomore season, with Dr. Daniel Pierce and his FBI partner Kate Moretti out to close more cases. BFTV spoke last week with series star Eric McCormack, who plays the crazy brilliant Daniel, about the remaining installments and the evolution of Perception.
After all, between the first and second seasons, we see many series find out what works and what doesn't, leading to tweaks and alterations. How has Perception changed over its sophomore cycle? "The biggest change has been introducing Scott Wolf to the show," Eric said, referring to the actor who recurs as assistant state's attorney Donnie Ryan, who's also Kate's ex-husband. "It's been great for all of us because he's just a good guy to have around, and the template of the first season, that shifted.
"[Rachael] and I are much more of a team now. And introducing Scott not only gives her a personal life and a backstory with someone else in the legal world that she can butt heads with, it frees me up too," he continued. "I've had some romance, which is kind of nice. And I didn't see that coming in season one."
Which would he say are the standouts of these four remaining episodes? "They do not want to miss any of them," Eric enthused. "But this first one ["Curveball"] I love. There's kind of a dual storyline. One involving literally a train as a murder weapon and a connecion that I have with a wrongly accused person living with a mental illness. There's a great connection to a ballplayer; [Daniel] hallucinates a ballplayer from a hundred years ago.
"Then there's a great storyline for Arjay Smith. He often doesn't get enough to do in our show," he added, revealing that the episode will shed light on "where he came from and why he is the Max Lewicki that he is."
"The finale ["Obsession"] is really a great surprise," he teased, "and it asks the question, if Pierce is so good in the classroom, what if he suddenly wasn't? What if his mental illness got to him even there?"
Eric spoke to us in the middle of shooting Perception's third season, which will air in summer 2014, and gave us a few hints about what's ahead. "We have an arc we're exploring this whole third season that we're shooting now with Scott and Rachael. I'm curious to see where that goes," he said. "We've got Peter Coyote coming in, playing my father. He's going to have a condition that Pierce has to deal with, besides the fact that they haven't spoken in 20 years."
"What's going on with the show now, I can't wait to talk about it. There are some very exciting things happening right now, including I got to direct [an episode], which was a great thrill," he continued. "When you trust the writers, it's such a thrill to open up a script."
He's seen plenty of scripts, being a familiar face to TV viewers in a number of roles, most notably for his classic role as Will Truman on NBC's sitcom Will & Grace. Now that he's played Daniel Pierce for awhile, does he think viewers are embracing him as a new character? "I really have seen that," he told us. "I never took that for granted. I knew that it was just going to take time and it would have to be the right role in the right kind of show.
"Sean Hayes' show [Sean Saves The World] just went down, and I [had] thought 'This could be exactly what the audience wants.' But you never know. You can't tell. I understand how tough it is with a character and an actor and a face that you've gotten used to over the years."
Since we already know Perception has been renewed, we don't have to bite our nails about the show's fate this year. Does that make the airing of these episodes more enjoyable for Eric, too? "It kind of is. You have to kind of stop for a second. We've got our brains so wrapped around episode three and four [of season three] right now, with the plots and the characters," he told us.
"It's nice too to be able to say to the audience, you don't have to wait till June. There are four great episodes. They're not filler. I think some of our strongest ones are coming."
Perception returns to TNT tonight at 10 PM ET/PT. Season three will air this summer. You can also follow Eric on Twitter (@EricMcCormack).
(c)2014 Brittany Frederick. Appears at Starpulse with permission. All rights reserved. No reproduction permitted. Visit my official website and follow me on Twitter at @tvbrittanyf.