People Who Are Awesome: Richard Hammond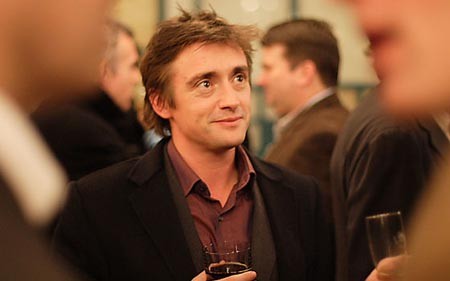 Richard Hammond is February's member of People Who Are Awesome, because if you live in the United Kingdom, he has taken over half your television. And he's done it all with a good attitude and even better hair.
The Hamster - as he's affectionately nicknamed - is best known as one-third of the hosting trio for the BBC's unmatched motoring show Top Gear, a job he's held for almost a decade (since 2002). Alongside Jeremy Clarkson and James May, Richard has reinvigorated car appreciation for a worldwide audience, and made what they can do interesting even to those of us who aren't necessarily petrolheads. I don't understand anything technical about my car, but I love watching Top Gear to see if they'll be turned into boats, or accidentally set on fire, or driven across Vietnam. The series is a never-ending source of entertainment, and that's down to the three hosts, who are, as Clarkson always says, "ambitious, but rubbish."
Yet not quite content with making amphibious cars or unintentionally ruining a drivetime radio show, Richard has hosted plenty of other programming. Up until G4 stopped running it, I eagerly awaited each airing of Brainiac: Science Abuse, the madcap psuedoscience series he hosted from 2003-2006. Some of the scientific experiments on Brainiac have been revealed to have been staged, but I didn't care; thanks to Richard, now I know what really happens when you put Christmas lights in your microwave, a few fun things you can do with thermite, and that there really are some products that are legitimately unbreakable. (That, and sharing Richard's apparent distaste for caravans, I gleefully enjoyed Brainiac Snooker, Brainiac Darts and Brainiac Golf, which were sports-themed excuses to blow one up at the end of every installment.)
Besides Brainiac, Richard has also hosted several other series and specials, including Richard Hammond's Five
O'Clock Show, Should I Worry About...?, Richard Hammond's Blast Lab, and currently, the UK version of Wipeout, entitled Total Wipeout. The man seems to be everywhere - which would be annoying except for that he's just so darn embraceable and a true joy to watch.
So we've established that Richard Hammond is a heck of a TV presenter, and a busy one at that. But what also makes him awesome is all the cool things he's done in the course of his hosting duties. He's done dozens of things I only wish I could do, or at least have seen happen. That ruining of a drivetime radio show? One of the best Top Gear films ever, in large part because of Richard's frustrations, since he actually was a radio DJ at one time. Here's Richard being tricked into damaging his own Ferrari on Petrolheads. And playing bass in the Top Gear band. And even...um, attempting a garden makeover. That's just scratching the surface. I wish I had half the stories to tell that Richard does. He's lived a very interesting life.
Said life is made all the more remarkable when you realize that he's quite lucky to be alive today. In late 2006, while driving a jet-powered dragster for a Top Gear film, Richard suffered what was described as a "significant brain injury" when a tire burst and caused the vehicle to crash. Making a difficult but complete recovery, he returned to Top Gear in January 2007. The following year, along with his wife Mindy, he wrote the book On The Edge, which is honestly one of the most emotionally engrossing books that I've ever read, period; it's amazing to think that he survived such a horrible accident and lengthy recovery to come back almost better than before. It's a truly captivating, inspirational story.
And that's what makes Richard awesome. Not just that he's a great TV presenter, or that he's done a lot of really cool things, but that he's a truly admirable person. A Daily Mail article from 2007 highlights some of the reasons why: to be in time for the birthday of daughter Willow, he literally left his Porsche in traffic and ran the final sixteen miles home. He also once borrowed a fishing boat to help rescue neighbors from their flooded home. I don't know about you, but I have a hard time running a mile, let alone sixteen miles at 3 AM. And it's certainly worth commendation when anyone - famous or not - is willing to roll up their sleeves and help someone else in danger.
Then there's his refreshingly reasonable attitude when it comes to fame: "I've never pursued being famous, but it's part of the job and I don't believe anybody that works on television does so because they don't want to be noticed," he told the Daily Mail in a 2006 piece.
Read or watch any of his interviews, and it's clear that Richard has his head screwed on properly. He is, by all accounts, one of the "good guys" we wish the entertainment machine had more of. He's equally as willing to poke fun at himself as he is to crack jokes on TV at someone else's expense. He's grateful for what he's been given. And so I find it impossible to do anything but like him, even as he has it all: a wildly successful career at a ridiculously amazing job, remarkable good looks for a 41-year-old, a legion of devoted fans, and a happy home life. I'd be jealous except for that I can tell he deserves everything he's been blessed with.
I've not yet met Richard myself, but I hope to be lucky enough to, someday. I'd love to sit down with him for an hour and just pick his brain. I don't doubt that it would be one of the best conversations of my life - spending time with a genuinely nice guy who's tackled just about everything the world has to offer and done so with a smile on his face. I wish I could be as cool as Richard Hammond, who is most definitely awesome.
To see more People Who Are Awesome, check out the column archives.