People Who Are Awesome: Maroon 5
Listening to Maroon 5 for the first time this month (yes, about a decade behind the rest of you)  has made me smile and shake my head in wonderment. How could that not be worthy of being called awesome?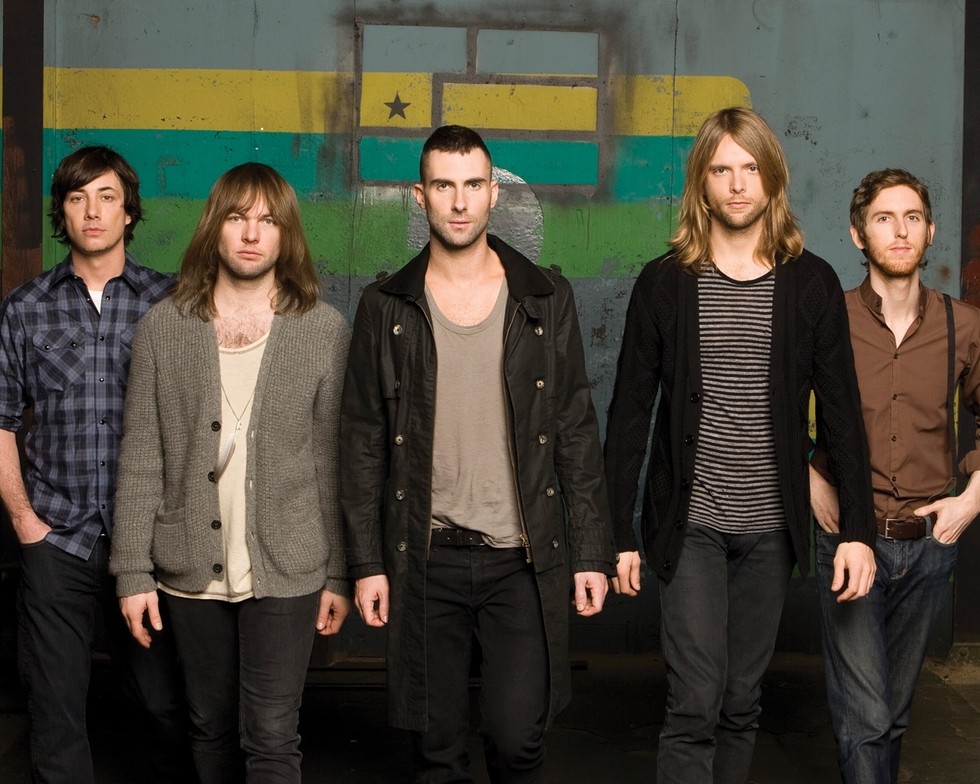 You see, I have a strangely apathetic relationship with music. Of course I have my favorite artists and a healthy stack of CD's like everyone else. But I don't connect with music the same way that I do with film or television, at least in part because I was never very good at it.  I can't sing very well, yet have been known to sing often. In my grade school's band, I was actually kicked off the clarinet and booted to the drum section before I got the hint and quit. As a result, music has never been a huge part of my life, and so I've never had a strong connection to it, unless you count listening to particular selections while writing whatever my next screenplay is. I have that one time I cried while listening to Brian Culbertson perform "The House of Music," but in general, music and I are just friends.
And then Maroon 5 had to come along and mess that all up. I mean that as a compliment.
It all started with lead singer/frontman Adam Levine. Previously, I would have referred to him as "that guy from that band I've kinda heard of," and then he had to be one of the coaches on NBC's The Voice, and win me over with his awesome personality. "I really like this guy," I said, "What's he done again?"
I bought my first Maroon 5 album just shy of two weeks ago (Songs About Jane; at least I started in order), the others soon followed, and I haven't really stopped listening to them since. This is not an exaggeration. Unless I'm having a meal or watching something for work, I've spent the last two weeks and counting with headphones in my ears or my stereo on. I've gone through every song on my new playlist - which is at over a hundred tracks once I downloaded everything on iTunes and the two WalMart Soundcheck EP's - at least a dozen times, and none of them are getting old. No other band or artist has ever held my interest like this.
Naturally, the question is why? I've thought on this, and it's a multi-part answer.
In terms of vocals, while no one will ever touch Bobby Caldwell for me, Adam is as close as anyone will get; it's become Bobby Caldwell, Adam Levine, and then everybody else, male or female. His voice is so unique and so fantastic, and he's amazingly versatile. Looking at him, you wouldn't think that he would cover Frank Sinatra or Alicia Keys, let alone do it well; he's done both. His version of "The Way You Look Tonight" is my new favorite, and his spin on "If I Ain't Got You" is almost as good as the original. Alicia and Adam also teamed up to deliver a wonderful version of "Wild Horses" on her MTV Unplugged release. The icing on the cake is that he's equally as talented a musician - we know he's a great guitarist, but he showed off his drum skills in the first episode of The Voice and is credited with some keyboard work on the band's latest CD, Hands All Over. I'm impressed that he can do so many things so well.
I have love for the other members of the band as well. As a jazz fan at heart, I have incredible appreciation for Jesse Carmichael's keyboards. His sound reminds me at times of the aforementioned Brian Culbertson. Not to mention that I'm baffled by how he can play not one but two setups so deftly at the same time (particularly in the video for "Makes Me Wonder," where one of them is actually behind him). That shows me not just someone who's talented, but someone who's put a lot of work into his craft. Both the band's drummers - Ryan Dusick and his successor Matt Flynn - have deepened my appreciation for percussion; they've come up with some great sounds. I can say the same for guitarists Mickey Madden and James Valentine. Things I wouldn't normally notice with any other band, I pick up on listening to Maroon 5.
There's also a particular soft spot in my heart for the fact that the band writes their own music; on this last album Adam had a writing or co-writing credit on every single track, some of them shared with James and Jesse. In this day and age where many successful artists don't really get involved with writing their own material, let alone remain the driving force behind it, I have a deep respect for that. That's also because the wordplay is so fascinating - the lines flow and interesting metaphors and word choices abound. You can tell from the lyrics that these guys are well-spoken, which helps to restore my faith when the local news confuses "your" and "you're."
I'm convinced there's a Maroon 5 song for everything. Their sound is so diverse that whatever my mood or musical preference, they've probably got something for it. "Misery" is distinctly different from "If I Never See Your Face Again" which is in turn completely separate from "Sunday Morning" - and I enjoy all of them. With most music, I know the general sound and while there might be a track or two that tries something new, it's generally the exception and not the rule - but this band isn't limited like that. Even with their live and acoustic recordings, there's a surprising depth. I have a personal dislike of live and acoustic tracks, yet I've got six versions of "She Will Be Loved" on my iPod, and I take away something unique from each rendition. At the same time, in everything they do, I appreciate that fundamentally, they stay true to the sound I've come to love. And "love" is the right word to use here. For one of the rare times in my life (I can think of only two others), I'm in love with music.
What pushes Maroon 5 into People Who Are Awesome territory is not just their music, but what I've experienced beyond that. For one, I really like them as people; they are exactly the people I hung out with in high school - the ones who were the nicest guys I knew, even if they occasionally did get away with a few mischievious things that I'd never do. There's no sense that their success has gone to their heads. I'd love to get a drink with Adam Levine and have a conversation with him; it wouldn't even matter what the subject matter was, I'd just genuinely enjoy spending time with him. Having seen the band's appearance on Top Chef Masters, I can't help but think bowling with them would be a riot. These guys are my kind of people.
Beyond that, their music has contributed a lot to my life already. There's something about their sound and Adam's voice that I find incredibly soothing. With all the health issues I've had, that's really invaluable. Earlier this week I got the worst news possible from my doctor - I'm going to need another surgical procedure. I have a severe phobia, so I've still been having nightmares over the last surgery, never mind another one. Yet I can say that listening to Maroon 5 has honestly helped me get through things, whether it's calming down after a panic attack, or something as small as just putting a smile on my face on one of my rough days. I can't thank them enough for that.
There are other things I owe to them as well. Watching Adam on The Voice has brightened my Tuesday nights. And I've even been motivated to try playing the guitar (a 222 by First Act guitar, of course!); I don't know if I'll be any good at it but I've enjoyed their music so much that I want to get back into it - even though I swore it off after that ridiculous band experience.
I also want to talk about something purely sentimental. Ever since I was young, I've been in love with a Broadway ballad called "Only You," as performed by Josie Aiello and Peter Hewlett on the 1987 cast album from Starlight Express. To this day, I sing along whenever I hear it, entertaining the notion of someday performing it - but I never figured out who could do the male vocals and possibly match up to the high standard of the original. Within minutes of hearing him sing, I knew Adam Levine would be perfect. Not only would he live up to Hewlett, but I feel confident in saying he'd probably surpass him. I'm sure that Adam and I will never sing that song together - but to finally fill that gaping hole in one of my childhood dreams is significant to me, and something else I want to thank him for.
I never thought that music would be important to me, and I wasn't exactly looking for it to be, either. Yet thanks to Maroon 5, not only have I found a new band that I love, but I've discovered an appreciation for music, a desire for it to be a part of my life, and something to get me through the most trying times I've ever seen. Now that I'm a richer person for having discovered them, it's my pleasure to call them officially awesome.