People Who Are Awesome: "Archer" & "Bob's Burgers" Star H. Jon Benjamin
I feel confident in saying that H. Jon Benjamin is the king of voice-over actors.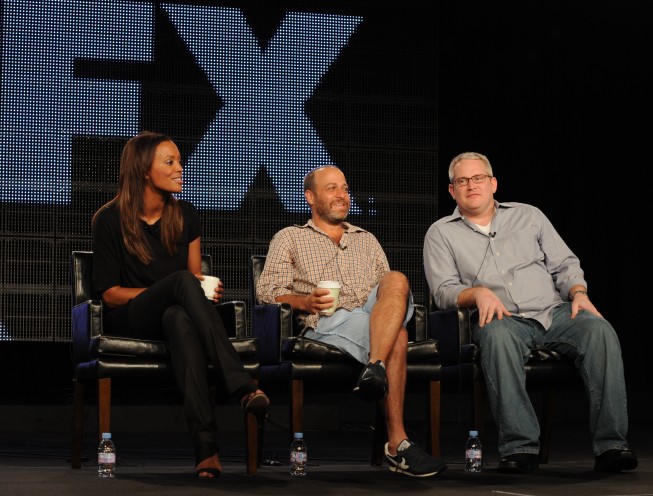 At this present moment, he's the star of not one but two animated series: the funniest comedy on TV, FX's Archer, and quirky freshman entry Bob's Burgers on sister network FOX. This summer, Comedy Central has given him a third series - the sketch comedy show simply titled Jon Benjamin Has A Van. As if that's not enough, he's still Carl the convenience store clerk on Family Guy, too. If you're into animated comedy, chances are you hear Benjamin (pictured here between Archer co-star Aisha Tyler and creator Adam Reed) on a regular basis.
He may be the hardest-working guy we hardly ever get to see. He's either been writing, voicing or sometimes writing and voicing for projects like Dr. Katz Professional Therapist, Late Night With Conan O'Brien, Wet Hot American Summer, Home Movies, The Venture Bros., Aqua Teen Hunger Force, Assy McGee, and WordGirl. He's also acted in a few live-action projects, too. Since 1997, IMDB lists him as an actor or voice actor in 44 different titles, many of which he appears in repeatedly. Do the math and that means you're seeing or hearing him in an average of three things a year.
And why not? His distinctive voice is seriously impressive.
As not always so super spy Sterling Archer, Benjamin's deadpan delivery is spot on all the time. Whether it's Archer trying to find that quip he never can, or flying completely off the handle in near-hysterics, every line is as expressive if not more than what a live-action actor would be able to convey. Not that I would wish this on him, but his voice is so fun to hear that I'd listen to him read something as inane as a drive-thru menu.
There's a lot more to him than a great voice, however; he also knows how to use it. When I watch Bob's Burgers on Sunday nights, I don't hear Sterling Archer's voice in a different body. I hear Bob Belcher. The same goes for Carl. I know it's the same voice actor, but the characters are all distinctive. (For that reason, I was amused to no end when FOX aired a promo spot for season two of Archer during an episode of Bob's Burgers.)
If you're not entirely sold on Benjamin's greatness, just listen to the people who've worked with him. At the Winter TCA press tour for Bob's Burgers, show creator Loren Bouchard (who was also responsible for Home Movies) said that he'd never dream of doing a show without Jon Benjamin. Over my various interviews with Archer's talented cast, they've all gushed about how good he is. His colleagues have such a tremendous respect for him. Though that might be news to Benjamin, who was the most laid-back, quiet person at the Archer panel I attended earlier this year. There's something charming about the fact that he's so good at what he does and yet seems completely unruffled by the whole thing.
I know that if I ever need a voice-over actor, H. Jon Benjamin would be the first person that I'd call. Between his talent and his amazingly long, accomplished resume, he is most certifiably awesome.
For more People Who Are Awesome, head over to DigitalAirwaves.net.