People That Aren't Doing It: Non-Romantic TV Relationships That Work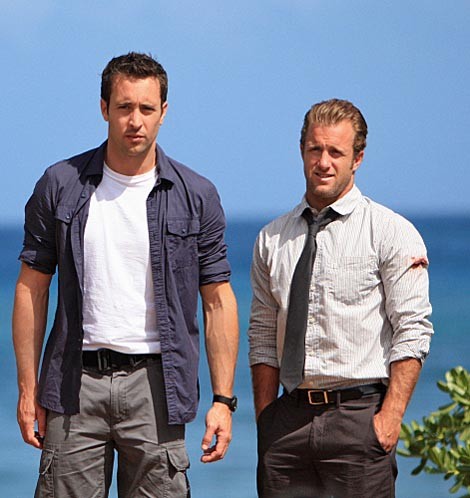 (*Firstly, if you don't get the joke in the title, visit Failblog. I'll wait.)
There's been a tremendous response to my Tuesday article about the reasons why I'm not excited about TV romance. It's been really awesome to hear from fans of various shows and pairings, who wrote in with their own opinions and ideas, and helped create a great discussion of the topic and the issues surrounding it - most importantly, with respect for me and for each other.
As is natural and perfectly fine, there were some people who disagreed with my lack of enthusiasm. One reader suggested that romantic relationships are a cornerstone of scripted television. This led a few people to speak up with some of their favorite non-romantic relationships on TV. I've got quite a few of those myself, so I thought, why not devote some column space to those, too? Spread the love, as it were. (Ha.)
So here's a list of some of my favorite non-romantic relationships on TV, from friends to family and some other stuff besides - the people that aren't doing it. But before we get to it, a word: I realize that I'm bound to include a few pairs that you believe have probably done it, or should do it. My putting them on this list doesn't mean I have a position on that one way or the other. All I'm saying is that they're not currently officially doing it, and their current non-romantic relationship works for me.
Without further adieu, let's get cracking!
24
Over eight seasons, 24 had a lot of awesome relationships that had nothing to do with romance. After all, the show was on a pretty tight schedule! There were some great professional partnerships, like those between Jack Bauer (Kiefer Sutherland) and Tony Almeida (Carlos Bernard) - at least until he went evil anyway - Jack and Senator/President David Palmer (Dennis Haysbert), Jack and Secret Service agent Aaron Pierce (Glenn Morshower) and Curtis Manning (Roger Cross), and Jack and Chloe O'Brian (Mary Lynn Rajskub). And even if she drove you nuts, there was no doubt that Jack dearly loved his daughter, Kim Bauer (Elisha Cuthbert).
There was also the work relationship between Chloe and Edgar Stiles (Louis Lombardi). I have a personal soft spot for the late George Mason (Xander Berkeley) - not only did he have some great banter with Jack in season one, he also had some very poignant scenes with Michelle Dessler (Reiko Aylesworth) in season two, as he implored her not to make the mistakes he had. When Mason died, I was bawling.
Archer
Sterling Archer voice of H. Jon Benjamin) and Ray Gillette (voice of Adam Reed) are definitely not doing it. Yet I crack up laughing at every exchange between ISIS' most macho agent and its most effeminate one. Archer seems to have no idea what to do with Ray, who is unresponsive to his two usual approaches to other people - pushing them around or trying to sleep with them. And Ray, for his part, seems to be the one sane person who works at ISIS.
A cornerstone of the show is also Archer's awkward, strange relationship with mom and boss Malory Archer (voice of Jessica Walter). It's hilarious to see how the apathetic and/or clueless things Malory did in Sterling's childhood led to the guy he became today. ("Why was he dressed as Hitler?") She still delights in screwing with his head - and I love every minute of it.
Battlestar Galactica
The love stories of Battlestar Galactica were great, but so were the relationships that weren't romantic. President Laura Roslin (Mary McDonnell) had an epic affair with William Adama. Yet I equally enjoyed watching the friendship between Roslin and Adama's son, Lee Adama (Jamie Bamber). Laura had a real respect for Lee, whom she affectionately referred to as "Captain Apollo," and he for her. Just because she was in love with his father didn't mean that he - or the show - treated her solely as his father's girlfriend, and she never looked at him as just Bill's son.

Brotherhood
It was right there in the title of the show: a complicated, frustrating, fierce but oh so watchable sibling relationship between Rhode Island politician Tommy Caffee (Jason Clarke) and his gangster brother Michael Caffee (Jason Isaacs). That relationship, with its many layers and constant changes, was the perfect one to build a show on - and it also sprouted several other watchable bonds besides.

I'm all for the love between Michael Westen and Fiona Glenanne. But I'm equally interested in how there's no love lost between Fiona and Sam Axe (Bruce Campbell). Over four seasons,  the relationship has definitely helped shape both their characters - we've seen them grow from people who couldn't stand each other to people who'd lay down their lives for each other (even if they still can't stand each other). Campbell is one of the best actors ever when it comes to comic timing and delivery, and Anwar is able to banter right back at him. It's vastly entertaining to see the two characters go back and forth (sometimes with poor Michael caught in the middle!) but also great to know that when it matters, they can and do count on each other.
Then there's the relationship between Michael's mom, Madeline Westen (the incomparable Sharon Gless) and...well, everyone. The Powers That Be made a wise decision this past season when they started using Maddie in some of the team's schemes. She treats all our heroes like they're her family - ribbing them, supporting them, and putting them in their place when they need it.
Cold Case
Philadelphia homicide detectives Lilly Rush (Kathryn Morris) and Scotty Valens (Danny Pino) didn't do it - although Scotty once dated Lilly's sister Christina. They were solid working partners who were also close friends. Scotty came to Lilly's rescue during a hostage situation in the homicide division in the fourth season episode "Stalker." One of the last scenes of the series involves Lilly in the backseat of Scotty's car, tending to her sister.
There was also a more fun, playful relationship between colleagues Nick Vera (Jeremy Ratchford) and Will Jeffries (Thom Barry). Vera and Jeffries often functioned as the show's comic relief. But one of the most gripping episodes of the entire show was season six's "Officer Down," in which Jeffries was shot while inside a convenience store, and Vera struggled with holding himself together as well as pursuing his partner's shooter.
Dexter
Dexter Morgan has lost two people he loved in two seasons...harsh! But he's never lost his family. It's Dex's relationship with his sister Debra Morgan (the criminally underrated Jennifer Carpenter) that's at the core of Showtime's hit series. Not to mention his visits from the ghost of his adoptive father, Harry Morgan (James Remar), who never lets Dexter - or the audience - lose sight of what's really going on. And wasn't watching Dexter and Arthur Mitchell (John Lithgow) take each other on in season four some of the best TV of that season?
Eli Stone
My favorite relationship of this underappreciated little show was the one between brothers Eli Stone (Jonny Lee Miller) and Nate Stone (Matt Letscher). It was a microcosm of the whole series - Nate, a doctor, was a man of science, while Eli was having a spiritual awakening he couldn't explain. Though they saw the world through different lenses, we also never doubted that they were loving and supportive of one another.

Hawaii Five-O
When I talk to Hawaii Five-O fans, the relationship that gets mentioned the most is the bonafide "bromance" between Steve McGarrett (Alex O'Loughlin) and Danny Williams (Scott Caan). They might have gotten a rough start, but it's clear that these two are not just exceptional partners together, they're good friends. They may banter with the best of them, but under that witty repartee is a real respect for and support of one another. I love watching them together. But I'm still a little ticked that Caan didn't win that Golden Globe...

Homicide: Life on the Street
The Baltimore Police Department's homicide unit was full of great partnerships. My two favorite teams were Detectives Frank Pembleton (Andre Braugher) and Tim Bayliss (Kyle Secor), and Meldrick Lewis (Clark Johnson) and Mike Kellerman (Reed Diamond). They were friends through the good times...and the times that one of them killed someone. Although that last part understandably didn't go over well.
In season one, Human Target was all about the men. It created a great trio in the characters of cavalier Christopher Chance (Mark Valley), cynical ex-cop Laverne Winston (Chi McBride), and the enigmatic but dangerous Guerrero (Jackie Earle Haley). All of them came to each other's rescue at least once. And whether you loved or hated the addition of girls to the cast in season two, give the show credit: it didn't allow that to change the sharp banter and strong bond between the guys.

Justified
Romance is in the air right now on FX's modern western. Yet equally as prominent - and oftentimes more compelling - than who Raylan Givens (Timothy Olyphant) is bedding are his interactions with former friend turned enemy turned sort of friend Boyd Crowder (the magnificent Walton Goggins). Boyd likes Raylan, but Raylan doesn't quite return the favor, although he begrudgingly admits that Boyd comes in handy.
And Raylan likewise has well-developed, constructive relationships with his fellow Marshals, Art Mullen (Nick Searcy), Rachel Brooks (Erica Tazel), and Tim Gutterson (Jacob Pitts). In fact, many of the show's best lines came from Raylan and Art's moments together.

Law & Order (the franchise)
Over more than two decades of television, there were and are plenty of good relationships among this brand. The original series saw Jerry Orbach's Lennie Briscoe have chemistry with all of his partners - whether it was the hotheaded Mike Logan (Chris Noth) or the smooth-talking Ed Green (Jesse L. Martin), Briscoe had a distinctive friendship with each of them.
Criminal Intent partners Robert Goren (Vincent D'Onofrio) and Alex Eames (Kathryn Erbe) aren't a couple, but they launched the show and are widely considered to be the heart of it.
And across the pond, I'm going to miss the bond between British coppers Matt Devlin (Jamie Bamber) and Ronnie Brooks (Bradley Walsh) when Bamber leaves after the upcoming sixth series. "Confession" still stands as one of my favorite episodes of the show, largely because of the connection we see between them.
Leverage
Leverage came into being with two couples clearly established - Nate and Sophie, and Hardison and Parker. Regardless of how you feel about either of both of those pairings, what about some love for the friendship between Hardison (Aldis Hodge) and Eliot Spencer (Christian Kane)? The "hacker" and the "hitter" play so well off one another.

The most passionate response to my previous article was from Nikita fans. They fervently support their romantic pairings in that fandom. But what also makes the show great is that all of the relationships amongst the characters have a significance and an entertainment value. Whether you're talking about Nikita (Maggie Q) and Alex (Lyndsy Fonseca), Nikita and Owen (Devon Sawa), Alex and Amanda (Melinda Clarke) or Jaden (Tiffany Hines), Michael (Shane West) and Birkhoff (Aaron Stanford) or Percy (Xander Berkeley)...every character is connected to almost every other in a significant way that is both entertaining to watch, and has some sort of impact on who they are. There's plenty of depth in Nikita beyond romance.

Southland
I've never seen police partnerships as gut-wrenching as those on Southland. Former rookie Ben Sherman (Benjamin McKenzie) finally pushed partner John Cooper (Michael Cudlitz) into facing his addiction demons when his poor health nearly got Sherman killed. And speaking of killed, is there anyone who wasn't sobbing when Sammy Bryant (Shawn Hatosy) lost his partner and best friend, Nate Moretta (Kevin Alejandro)?

Sports Night
Possibly my favorite friendship on TV of all time is that between Casey McCall (Peter Krause) and Dan Rydell (Josh Charles). BFF's since well before we met them, Casey and Dan remained inseparable both professionally and personally. Dan was there when Casey was going through his divorce from wife Lisa, and pushed him into revealing his feelings for boss Dana Whitaker (Felicity Huffman). In turn, Casey helped Dan deal with his tricky relationship with Rebecca Wells (Teri Polo), and always looked out for Dan's professional future, even if it wasn't with him. They bantered, they fought, they made up - but they were always the best of friends.

Shawn Ryan's great new cop show has some wonderful relationships within it. At its core is the friendship between Chicago Superintendent Teresa Colvin (Jennifer Beals) and Detective Jarek Wysocki (Jason Clarke). Former partners, currently collaborators, they have a deep respect for one another that's always evident. It's believable that they have the long history we're told about. The relationship crackles with energy. They're not afraid to push and challenge one another as much as they support one another.
Jarek's partnership with rookie detective Caleb Evers (Matt Lauria) is nothing to scoff at, either. Matt Lauria described it best: it's a give-and-take, a chess match between two competent people who expect to get back as much as they give. Jarek never lets Caleb off easy, and Caleb doesn't take Jarek's attitude. At the same time, though, Jarek doesn't hold back a compliment when Caleb earns it, and Caleb looks out for his partner's well-being even when Jarek himself doesn't. I'd ride with either of them. Preferably both.
The X-Files
While Mulder and Scully were meant for one another, they had healthy, intriguing relationships with other people as well. Both of them had a great bond with their boss, Assistant Director Walter Skinner (Mitch Pileggi). After Mulder's abduction at the end of the seventh season, Skinner was there every step of the way for Scully (Gillian Anderson). And Mulder (David Duchovny) had a thoroughly entertaining ongoing feud with Alex Krycek (Nicholas Lea), who killed Scully's sister, Melissa. And let's not forget their friendships with the Lone Gunmen (Tom Braidwood, Dean Haglund, and Bruce Harwood)...

Third Watch
There were loves and losses throughout the entire run of Third Watch. But nothing affected me more than the two police partnerships - which were also deep friendships - that were at the core of the show. Maurice "Bosco" Boscorelli (Jason Wiles) and Faith Yokas (Molly Price) were there for each other through thick and thin; Faith supported Bosco even at the expense of her own career. And when Faith was inside a bank during a dangerous situation (in "Mothers' Day"), Bosco dropped everything to come to her rescue.
And the show started with veteran beat cop John "Sully" Sullivan (Skipp Sudduth) looking out for rookie Tyrone "Ty" Davis, Jr. (Coby Bell) after having worked with Ty's father, but tables were turned when Ty didn't hesitate to come to his partner's aid during what he thought was a life or death situation (in "Officer Involved") and later to get him the help he needed with his alcoholism.
White Collar
White Collar wouldn't be the same show without the great friendship between Neal Caffrey (Matt Bomer) and Mozzie (Willie Garson). Thanks to season two's "Forging Bonds," we've seen that Mozzie helped impart some of the criminal wisdom that made Neal the con man we know and love. He's still there, day in and day out, willing to do what needs to be done to help his friend - particularly evident in the search for the killer of his girlfriend Kate. Even if he doesn't like what it entails, Mozzie always supports Neal, and that's the definition of a true friend.
There are plenty of other friendships, partnerships, family relationships, and adversarial relationships that could be placed on this list. I'm sure that I've left off quite a few (not intentionally!) in this already long roll call. Feel free to comment below and tell me about your favorites, and why they hold your attention.
None of these pairs are in bed together, but they're all effective, either entertaining us or shaping each other, or oftentimes both. It is my hope that we appreciate the relationships on television that aren't about romance just as much as we discuss and promote the ones that are. It's not that one type of relationship is better than any other, but that they all have value.