People Magazine Names Lupita Nyong'o 'Most Beautiful' Star For 2014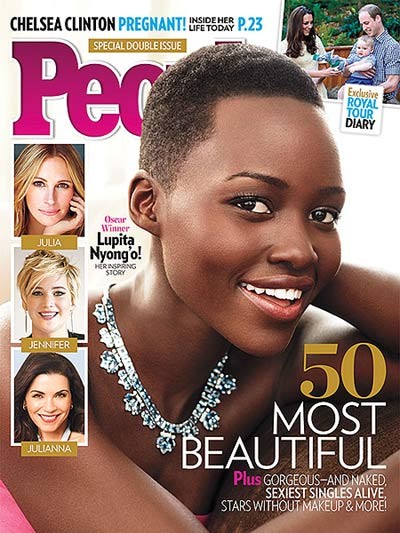 Lupita Nyong'o is named PEOPLE's "Most Beautiful" 2014 in the magazine's special "50 Most Beautiful" double issue, now celebrating its 25th anniversary. This marks the first time the actress and Hollywood It Girl - fresh from her Oscar win for Best Supporting Actress for her first starring role in 12 Years a Slave - has landed on the coveted list. Taking the film and fashion world by storm, Nyong'o, 31, is joined by fellow "Most Beautiful Woman" Hall of Famers Halle Berry (who has appeared in the pages of PEOPLE's "Most Beautiful" issue 16 times (including once on the cover in 2003), Jennifer Lopez (who has appeared in the issue 12 times (once on the cover in 2011), and The Wolf of Wall Street's Margot Robbie, a newcomer to the list. The fabulous faces featured in the issue also include such gorgeous guys as Game of Thrones' Nikolaj Coster-Waldau and Thor star Chris Hemsworth.

"My mother always said I was beautiful, and I finally believed her at some point," says Nyong'o, who wasn't allowed to paint her nails and wear makeup until she was a teen. "She taught me that your presentation is an expression of how much you care about yourself and those around you." During a moving speech at the Essence Black Women in Hollywood Luncheon in February, Nyong'o credited the success of supermodel Alek Wek as a major boost to her own self-image. When PEOPLE introduced the two for a candid chat, it was clear the admiration was mutual. "I love the genuineness you bring to your craft and just you as a young lady," Wek told Nyong'o. "Beauty should not just be accepted in one culture; it should be universal."

To view more of their talk, visit www.people.com/mostbeautiful. More of Lupita Nyongo's exclusive interview appears in the 5.5.14 special double issue of PEOPLE, on newsstands now.


Also in the "Most Beautiful" Issue:

"25 Years of Beauty": PEOPLE looks back at all the past "Most Beautiful" honorees and asks them: What beauty secret have you relied on most through the years? Cindy Crawford: "The real beauty secret is to be happy and spend your time and energy doing things you love. That shows on your face more than any new lipstick!" Nicole Kidman: "Good love. If you give it and receive it, it can be miraculous…better than any serum." Beyoncé: "If you live your life with kindness and giving other people great energy, that beauty and great energy comes back to you."

Kicking off PEOPLE's 8th annual "Not a Drop of Makeup" section featuring six fresh faces - Ellen Pompeo, Mindy Kaling, Cobie Smulders, Naomie Harris, and Allison Williams - photographed in nothing but moisturizer and lip balm - is Witches of East End star Jenna Dewan-Tatum, 33. She says the beauty of being married to PEOPLE's 2012 Sexiest Man Alive, Channing Tatum, is "Channing thinks I'm most beautiful without makeup in the morning. I even had a moment in time when I had acne scars, and I tried to get them taken off and he said, 'No, no, no, I like them.' He's a keeper!"

"Naked at 34": A recent study reveals that women feel best about their bodies at age 34. To prove the point, we rounded up five glorious stars born in late '79 and early '80 - Pink, Stacy Keibler, Dania Ramirez, Laura Prepon, and Rachael Leigh Cook - and let them strut their stuff.

In "Half Their Age!," PEOPLE honors five radiant stars - Sharon Stone, 56; Garcelle Beauvais, 47; Molly Sims, 40; Gina Gershon, 51; and Trudie Styler, 60 - who reveal the secrets to their decades-defying beauty. "I was 32 when Basic Instinct came out, so that was a very exciting time for me," Stone reveals. "But now I feel even more excited because I don't feel afraid." And as she ages, she embraces change. "Say a warm goodbye to the thing you were before," she says. "And then you're free to say, 'What great thing am I going to be now?'" Garcelle Beauvais says, "I also try to eat healthy, but I'm not crazy about it." The mom of three (including 6-year-old twin boys Jax and Jaid), says "If I'm with my kids and it's pizza night, I am having a couple pieces for sure!" What's Gina Gershon's secret to staying in top shape? "If you're living a great life and having sex with someone you're madly in love with, that is key," she says. Gershon believes that Americans should stop focusing so much on birthdays. "It occurred to me that in our society we'd be a happier people if we didn't obsess about age and didn't have mirrors."

In "Real Beauty at Every Age," meet the winners of PEOPLE's search for the most beautiful real women in their 20s, 30s, 40s, and 50s. More than 10,000 women submitted their photos to PEOPLE.com, and readers voted on the final four.
In "Eternal Beauty," PEOPLE sits down with Oscar-winning actress Diane Keaton, 68, to talk about her new beauty-themed memoir, Let's Just Say It Wasn't Pretty, her youthful insecurities, aging in Hollywood, and what beauty means to her now. "There aren't that many 68-year-old actresses still working. Seriously; let's think about this: There aren't! That's depressing. In this new movie [And So It Goes?] I get to kiss Michael Douglas. I loved it. He may hate the idea, but I don't care 'cause I'm gonna have a good time."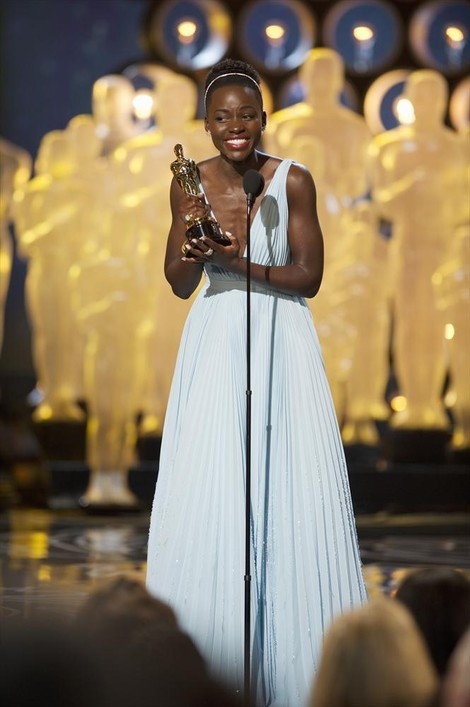 TOP 10 FUN FACTS about PEOPLE's "MOST BEAUTIFUL" Issue
1) "Most Beautiful" Debut Issue, 1990: Michelle Pfeiffer appears on the cover of PEOPLE's first "50 Most Beautiful" issue (and also for a second time in 1999).

2) Most Covers: Julia Roberts has graced PEOPLE's "50 Most Beautiful" cover four times (1991; 2000, 2005, 2010) - more than anyone else.

3) Hall of Fame (Women): Halle Berry has appeared in the pages of PEOPLE's "50 Most Beautiful" issue 16 times (including once on the cover in 2003). Julia Roberts is second with 13 times (including four times on the cover); Jennifer Lopez is third with 12 times (once on the cover in 2011).

4) 2010 Cover featured Sandra Bullock and her adopted baby Louis: PEOPLE broke the news about Bullock and her new baby, which knocked Julia Roberts off the "Most Beautiful" cover (as the main image) in 2010. (Roberts' photo appeared at the top of the cover that year).

5) Men on Cover: There have only been three men who have graced the cover of PEOPLE's "Most Beautiful" issue - Mel Gibson (1996); Tom Cruise (1997); Leonardo DiCaprio (1998).

6) Hall of Fame (Men): George Clooney and Brad Pitt have appeared in PEOPLE's "50 Most Beautiful" issue 10 times; Patrick Dempsey, Hugh Jackman and Matthew McConaughey are tied for second place with seven times.

7) Landed Covers of "Sexiest Man Alive" & "Most Beautiful": Both Mel Gibson and Tom Cruise have appeared on the cover of PEOPLE's "Sexiest Man Alive" and "Most Beautiful" special issues.

8) Two "Friends" on Cover: Jennifer Aniston (2004); Courteney Cox (1995)

9) "Most Beautiful" Cover Subjects who co-starred with Brad Pitt (either in movies or on TV): Julia Roberts (Ocean's Eleven); Jennifer Aniston and Courteney Cox (Friends episode); Gwyneth Paltrow (Se7en); Angelina Jolie (Mr. & Mrs. Smith); Catherine Zeta-Jones (Ocean's Twelve); Drew Barrymore (Confessions of a Dangerous Mind), Lupita Nyong'o (12 Years a Slave); Michelle Pfeiffer (Sinbad); Tom Cruise (Interview with the Vampire); Jodie Foster (Abby Singer).

10) Jessicas: Six women named Jessica have appeared on the "Most Beautiful" Hall of Fame list - Jessica Simpson (7x), Jessica Alba (6x), Jessica Biel (6x), Jessica Lowndes (2x), Jessica Stroup (2x), Jessica Szohr (2x) [not counting Sarah Jessica Parker].

25 YEARS of PEOPLE's "MOST BEAUTIFUL"
2014 Lupita Nyong'o
2013 Gwyneth Paltrow
2012 Beyoncé
2011 Jennifer Lopez
2010 Julia Roberts
2009 Christina Applegate
2008 Kate Hudson
2007 Drew Barrymore
2006 Angelina Jolie
2005 Julia Roberts
2004 Jennifer Aniston
2003 Halle Berry
2002 Nicole Kidman
2001 Catherine Zeta-Jones
2000 Julia Roberts
1999 Michelle Pfeiffer
1998 Leonardo DiCaprio
1997 Tom Cruise
1996 Mel Gibson
1995 Courteney Cox
1994 Meg Ryan
1993 Cindy Crawford
1992 Jodie Foster
1991 Julia Roberts
1990 Michelle Pfeiffer

PEOPLE's Most Beautiful Women: Then & Now
From Child Stars to Grown-up Beauties
Most Beautiful at Every Age