Penn Badgley Lands Jeff Buckley Role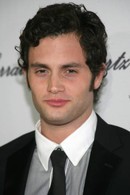 Gossip Girl hunk Penn Badgley has landed the coveted role of Jeff Buckley in one of several biopics set to hit the big screen next year.

It had been rumored Badgley was close to signing to portray the musician and had beaten an eager Robert Pattinson to the role.
Movie producer Orian Williams spoke out and slammed the reports, insisting Badgley had nothing to do with his film and Pattinson had only been engaged in several early-stage talks.

However, it turns out the TV star will play his idol on-screen - but in a different biopic.  Badgley will tackle the lead role in upcoming project Greetings From Tim Buckley, named after the star's father and focusing on his estranged relationship with his dad.

In a statement, the actor says, "To play a man who was singularly gifted as an artist, greatly misunderstood & mythologized as a human being... It's something very special and sacred. I'm going to give all I can to this project."

Smuggler Films' Patrick Milling Smith adds, "We had been searching well over a year for an actor that can come close to Jeff's spirit while also having the serious musical chops required to authentically tell this story. Penn's audition blew us away and we knew we found our star."

Buckley drowned in a Memphis, Tennessee river in 1997 at the age of 30.