'Pee Wee's Playhouse' Coming To Adult Swim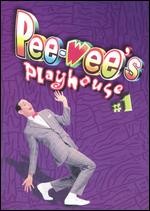 Pee-wee's Playhouse
, the winner of an astounding 22 Emmy Awards and a pop culture touchstone nearly 20 years after its debut, returns to TV, joining the Adult Swim lineup beginning Monday, July 10. The acclaimed series, which has been largely absent from the airwaves for nearly 15 years, stars
Paul Reubens
as his alter-ego Pee-wee Herman, and features a rich cast of characters who drop by "the place where anything can happen."
Adult Swim will air the series Monday-Thursday at 11 p.m. (ET, PT), airing all 45 original half-hour episodes of the series and the rarely-seen Pee-wee's Playhouse Christmas Special. Many of the episodes have not been seen on TV since the original Saturday-morning run of Pee-wee's Playhouse.
In the series, Pee-wee, dressed in his too-small grey suit and red bowtie, welcomes a cavalcade of characters to his playhouse, including the King of Cartoons, Cowboy Curtis, Miss Yvonne, Pteri the Pterodactyl, Randy (the resident trouble-starter), Captain Carl, Jambi the genie, nosey neighbor Mrs. Rene, and Reba the mail lady.
Other inhabitants of Pee-wee's Playhouse include Pee-wee's talking chair, Chairry, Globey the Globe, Magic Screen, Conky the Robot, hipster-beatniks Chickie Baby, Cool Cat and Dirty Dog, Cowntess the cow and the family of miniature dinosaurs that live in a mouse hole inside a wall.
Each fast-paced episode blends live-action, puppets and all different types of animation including vintage cartoons, stop-motion Penny segments and Spanish superhero El Hombre. Plus there's always a lesson or two.
Check out Pee Wee's Playhouse
HERE.