Pearl Jam 'Lets It Go' In Milan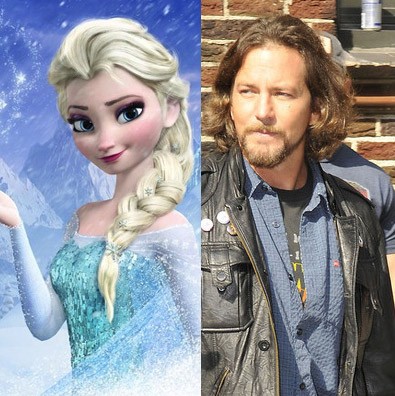 Pearl Jam is one of those bands that has international renown across the world. They have global fame and fans world round - which is, interestingly enough, a common trait they share with another entertainment superpower; Walt Disney Studios. It just so happened that last Friday night (6/20/14) those two worlds collided.
During their tour in Milan, Italy, frontman Eddie Vedder transitioned from the song 'Daughter' into a short rock-rendition of 'Let It Go' originally sung by Idina Menzel in Disney's smash hit, Frozen. Needless to say, it was a completely different experience at a Pearl Jam concert, but it just goes to show how many people this song has touched. 
It's particularly interesting that the song came right in the middle of 'Daughter' considering that Vedder has two young daughters who are probably right around the age that Frozen appeals to. It's a movie about sisterly love, and believing in ones' self, things which Vedder, a well documented women's rights activist probably is right behind. 
The rendition was short and sweet, and after just singing the chorus, 'Daughter' resumed once more. It was a charming and touching reminder that even rock gods can also be fathers who enjoy sitting down and watching a Disney movie with their kids too.