Peaches Geldof Blames Weight Loss On Bird Flu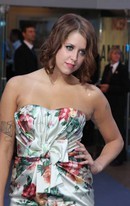 Bob Geldof's wildchild daughter Peaches has defended her dramatic weight loss, insisting she shed the pounds as a result of avian flu.

The rock offspring shocked fans earlier this week by stepping out in a skimpy red dress, showing off her minuscule figure.

Geldof came under attack by critics for her skinny frame, but she has now hit back, insisting an illness initiated the weight loss.

She tells London's Evening Standard newspaper, "I've lost weight. I've had avian flu."

But the TV presenter is adamant she has not lost her appetite - she's just cut out junk food to maintain her new image.

In a series of posts on Twitter.com, she adds, "To those telling me I look skinny and to eat something, I can assure you I've just cut out eating crap. I still eat like a horse, guys! All these 'Peaches Geldof: so skinny', 'Peaches Geldof's drastic weight loss' articles are becoming boring. I eat more healthily now. That's it.

"Obviously I'm going to look thinner if I don't sit around eating pizza and chips. It's just how the body works. You are a product of what you eat."