Paz de la Huerta Stars In Singer Jihae's Music Video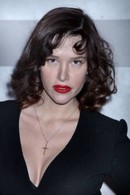 Actress Paz de la Huerta has shown her support for up-and-coming singer Jihae by shooting a music video with the rising star.

The Boardwalk Empire actress dances provocatively and crawls on all fours in a dramatic black gown in the promo for Jihae's cover of Kraftwerk track The Model.

However, De la Huerta was adamant her pal return the favor - she convinced Jihae to record a classical arrangement for an upcoming film project.

Jihae tells Spinner, "I found it mind boggling that kids today when asked what they want to be when they grow up, 99 per cent of the time the answer is, 'I want to be famous' or 'I want to be on TV'. If you ask, 'Famous for what?' you'll most likely get a shoulder shrug."

"It's a sad world when the Kardashians and other reality stars are the role models for our next generation. This is what inspired me to cover the song and make the video. Paz and I met through mutual friends and we became yoga buddies. She had me learn Ave Maria in Latin to sing in high soprano for a short film she was directing as a favor back for being in my video."