Paz de la Huerta Blames Her Drunk Friend For Nightclub Scuffle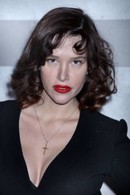 Actress Paz de la Huerta has denied she was boozing at director Brett Ratner's party on Monday after she was involved in a dispute with a pal.

The Boardwalk Empire star reportedly got into a scuffle at the Stone Rose Lounge bash in New York after she accidentally spilled a drink over her friend, who broke down in tears and refused to accept de la Huerta's apology.

The incident sparked rumors the star was drinking again following her run-in with the law earlier this year, when she was sentenced to community service and 12 weeks of alcohol counseling after allegedly punching a partygoer at a Big Apple club.

However the brunette is adamant she hasn't touched a drop since March, and blames the dispute on her friend's intoxication and emotional issues.

She tells New York Post gossip column PageSix, "I haven't had a drink since March 23. I was drinking Coca-Cola. I brought a very good friend to the premiere who's having problems. She got wasted. She lost her wallet and was screaming and wailing and acting irrational. She spilled a drink on herself when I reached over to hold her hand to calm her down."

"She feels horrible about it. I made the decision to leave. Brett is a dear friend."