Paula Patton Wears A See-Through Dress To 'Baggage Claim' Premiere With Husband Robin Thicke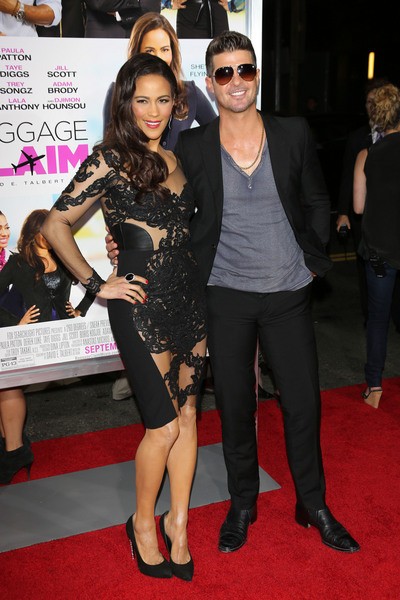 Last month, Miley Cyrus shocked viewers with a racy duet with Robin Thicke at the MTV Video Music Awards, but the incident appears to have had no affect on the "Blurred Lines" singer's relationship with his wife Paula Patton.
The couple attended the "Baggage Claim" premiere in Los Angeles on Wednesday and were not shy about showing some PDA on the red carpet. The actress also looked stunning in a sheer black cocktail dress that showed off her curves.
Patton explained to TV host Andy Cohen last week that her husband's racy performance with Cyrus was no big deal.
"I wasn't surprised at all. Honestly, they rehearsed for three days beforehand... I don't know how not to dance with someone having their booty in your [face]..." she told Cohen on Bravo's "Watch What Happens Live. "All my friends do it like that!"
Patton's new film hits theaters on Friday, Sept. 27. It centers on a flight attendent who has just 30 days to find Mr. Right so she can get engaged before her sister's wedding.
Check out more photos of Paula...