Paula Patton And Robin Thicke Hit With Huge Tax Bill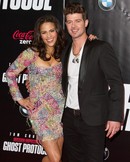 Hollywood actress Paula Patton and her singer husband Robin Thicke are facing a massive tax bill amid allegations they have failed to hand over more than $492,000 in payments.

Officials at the IRS (Internal Revenue Service) filed a tax lien against the couple last month demanding payment for $492,583.

However, a representative for the Precious star and her partner insists the bill will be taken care of as soon as possible, telling the Detroit News, "They were just made aware of the issue and it is being taken care of immediately."