Paula Deen Talks Slimming Down And Getting Healthier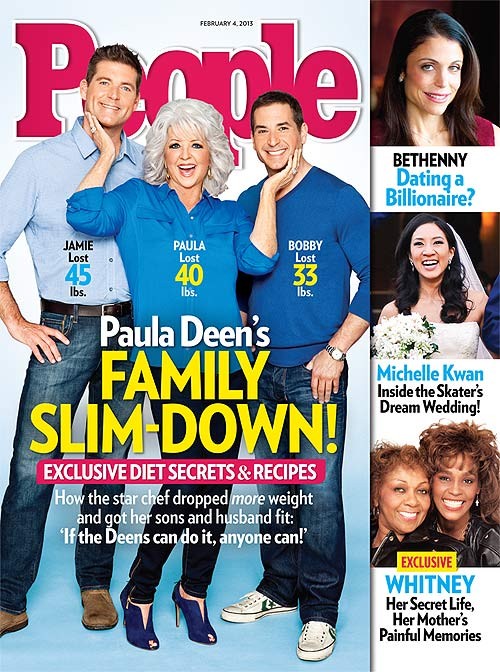 Star chef Paula Deen, her husband Michael, and her sons Jamie and Bobby share their tips in this week's issue of PEOPLE for getting slimmer and healthier. When Paula Deen finally stopped living in denial about having type 2 diabetes at the end of 2011, she cut down on carbs, cut back on portions, doubled up on greens and dropped 40 lbs. Her family followed suit. First, son Jamie, a dad of two, lost 45 lbs. by "eating like a 6-year-old," he tells PEOPLE. "Six-year-olds eat the right portion sizes!" Next, Paula's 300-lb. husband, Michael Groover, faced a choice: schedule knee replacement surgery or lose weight. Because "I'm not fond of knives," he says, he shed 60 lbs. on a strict, doctor-supervised regimen. Meanwhile, Paula's younger son Bobby had faced his own demons 12 years earlier. "I didn't look or feel good, and I decided to get in shape," he tells PEOPLE. "Exercise changed my relationship with food, and I began to search for a balance."

Now the First Family of Food – they have 16 cookbooks, a magazine, three hit TV shows on air, six restaurants and a line of fresh and packaged food products due this spring – is influencing the next generation. "My grandsons would choose a carrot over a cookie," says Paula. "If it wasn't for the fact that they love butter so much, I'd question if they were really mine." But the older family members still need support. "Doing it together helps so much," says Paula. "It's just easier when y'all encourage one another and pull in the same direction." Pronounces Jamie: "If the Deens can do it, anyone can."

Paula: The Smaller Portions Diet
The 5'6" family matriarch, 66, dropped 10 more pounds since last summer by continuing to follow her new mantra. "It's all about moderation," she tells PEOPLE. "I eat reasonable portions now." She also gained peace of mind. "I'm sorry it took so long to finally admit that there was a flaw in my body," she says. "It's hard to believe, but diabetes has been a blessing."

Michael: The Doctor-Supervised Diet
Groover, 57, "used to get birthday cakes when it was nobody's birthday," says the 5'10" harbor pilot who wed Paula in 2004. He began a program last June called OurSkinny: four protein shakes a day plus a healthy dinner. "It's tough to stay committed," he tells PEOPLE. "When I used to diet, I'd eat a donut and think I screwed up, so I'd eat a dozen. Now I've learned if you fall off the wagon, you just jump back on."

Jamie: The Busy Dad Diet
Becoming a father was the catalyst for Jamie, 45. "Unlike Bobby, I don't have time to go to the gym," he says, "so I have to watch what I consume more." The 6'3" star of the Food Network's Home for Dinner with Jamie Deen stopped eating after 6 pm and cut down on carbs – "anything I used to put on bread, I now put on lettuce," he says.

Bobby: The Beat Your Genes Diet
"I'm Paula Deen's kid," says the 5'9" Cooking Channel star who grew up often wearing "jeans from the husky department." Twelve years ago he stopped "eating whatever was in front of me – and started taking care of myself." He lost 33 lbs. eating veggies and fish, and still hits the gym daily. "Eighty percent of the time I'm careful about what I eat," says Deen, 42.

More Deen Family diet secrets and healthy recipes are featured in the 2/4/13 issue of PEOPLE, on newsstands nationwide now.

*Also In This Week's 'People'*
Exclusive Book Excerpt: Remembering Whitney, By Her Mother, Cissy Houston
Exclusive – Inside Michelle Kwan's Dream Wedding
Pink: "I'm A Die-Hard Eminem Fan. I Think He's Awesome"
The Carrie Diaries' AnnaSophia Robb On Sarah Jessica Parker: "I Envy Her Body"