Paula Deen Looks To Clear Her Name After N-word Controversy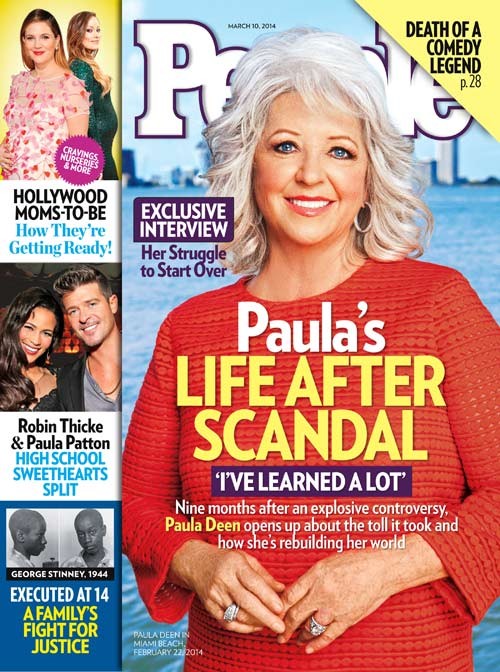 Nearly nine months after her multimillion - dollar food empire was shattered by an explosive controversy, celebrity chef Paula Deen, 67, opens up in an exclusive interview in this week's issue of PEOPLE about the toll it took, her lowest point, and how she's changed.

The outpouring of affection Deen experienced at a Feb. 22 barbecue event hosted by her son Bobby at the South Beach Wine & Food Festival in Miami Beach – her most high-profile public appearance since the 2013 scandal that rocked her food empire, which raked in $18 million in 2012 – "feels good," Deen tells PEOPLE. "If it wasn't for my fans' love, I'd be home breathing into a paper bag."

Just nine months ago, simply getting out of bed seemed like an impossible challenge. "When I woke up each morning, it was like my world was crashing down again," she reveals to PEOPLE. The colossal crash came last June when reports surfaced that Deen admitted in a deposition to using the N-word a "very long time" ago. The lawsuit was ultimately dismissed, but the damage was done.

"The first thing out of her mouth was, 'I hope what I've done hasn't hurt my boys.'" Deen's longtime producer Gordon Elliott says. Her sons Bobby, 43, and Jamie, 46, have both built careers around their mother's brand. Looking back on that period, Deen says, "It was like a death."

Now the onetime "Queen of Butter" is hoping for a rebirth with a new company funded by a $75 million deal with a private investment firm. "I'm fighting to get my name back," says Deen, who famously leveraged her folksy appeal, sinful recipes and business savvy to grow her Savannah sandwich service (the Bag Lady) into a global corporation with the launch of her Food Network show in 2002. Some feel Deen will never restore her reputation to its original glory. "Her brand identity as the sweet grandmother was destroyed permanently with all but her loyal fan base," says brand manager David Johnson, CEO of Strategic Vision. "She continues to play the victim and send a signal to sponsors that she doesn't understand the gravity of her words or race issues."

Those on Team Deen disagree. "Some people said I never apologized. If anyone did not hear me, I want to apologize," Deen says. "I would never ever hurt anyone intentionally. Never!" Her new management team and members of her inner circle also chafe at the notion that Deen needs a comeback. "I struggle when I hear that, because she never really went anywhere," says Bobby. "She was wronged."

In the end, Deen would like to see less finger-pointing. "I feel like 'embattled' or 'disgraced' will always follow my name. It's like that black football player who recently came out," says Deen, referring to NFL prospect Michael Sam. "He said, 'I just want to be known as a football player. I don't want to be known as a gay football player.' I know exactly what he's saying."

At her lowest, Deen says, she took comfort in reading positive comments posted about her online. "I could not get off the computer except to go to the bathroom and eat," she says. She also looked to a familiar refuge: her kitchen. After the controversy made headlines, "I made eight cakes in six days," leading her husband of nearly 10 years, Michael Groover, 58, to tell her, "Honey, I don't know if I'm going to survive this," she recalls.

For a woman who has repeatedly reinvented herself – and who didn't find vast wealth until her 50s – this latest chapter has involved facing her "greatest fear," as she puts it. "I used to have dreams that I lost everything," she says. "And when it finally happens, you think, 'I'm still alive.'" As for what's she's learned, she says, "Michael told me, 'You've learned how badly words can hurt and how powerful they are.' I have been hurt by them, and I unintentionally hurt others. But I don't want that to define who I am."

More on Paula Deen is featured in the 3.10.14 issue of PEOPLE, on newsstands now.