Paul Rudd Joins Jimmy Fallon For First Ever 'Tonight Show' Lip Sync Battle -- And It's Epic!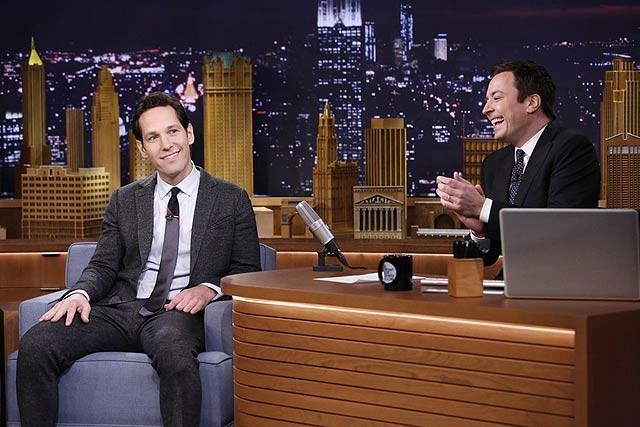 The first official "Tonight Show Lip Sync Battle" happened Tuesday night between host Jimmy Fallon and guest Paul Rudd.

The skit was first made famous on "The Late Show" when Fallon was host, and became epic when guest Stephen Merchant, who created the game with pals John Krasinski and Emily Blunt, challenged Jimmy and Joseph Gordon-Levitt to a battle that Gordon-Levitt destroyed with a mock performance of Elton John's "Tiny Dancer" (watch it below).

This time around it was Rudd's turn to take on the host, and the result is nothing short of hilarious. The "This Is 40" star began by miming Tina Turner's 80s hit "Better Be Good To Me" almost perfectly, followed by Fallon's attempt at Foreigner's "Juke Box Hero."

Rudd stepped things up for his second song, Queen's "Don't Stop Me Now," after which Fallon threw in the towel.

Shaquille O'Neal was also a guest on Tuesday night's show to promote his new clothing line for Macy's. Shaq and Fallon then exchanged suit jackets with hilarious results.

Check it all out below...